Enjoying Slot Games: Desktop vs. Mobile
Categories:
News
|
Published by:
valterb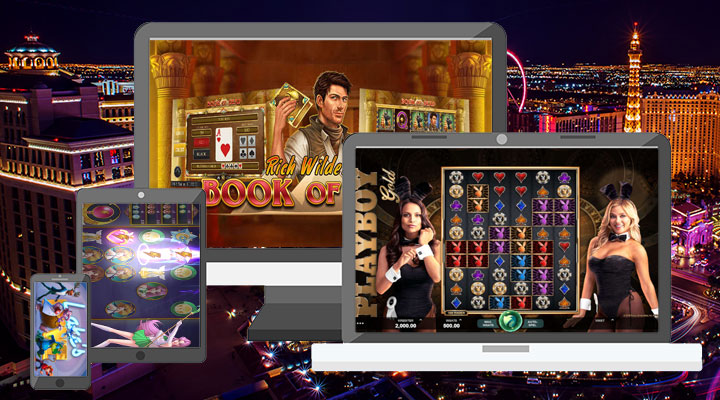 Online slot games were initially designed to be played from the desktop of your computer. However, with the strong rise of smartphone and tablet usage playing on the go has significantly increased in popularity. Game producers design mobile versions of their slot games and online casinos reserve a section on their website for mobile games. Some online casinos predominately focus on mobile slots and although their games can also be enjoyed from a desktop, they cater their wares for the mobile gambler. Despite the rise of the mobile casino, is playing on your smartphone or tablet better than playing from your desktop? Here we will list a few pros and cons and let you decide.
Playing Slot Games from your Desktop
As mentioned in the introduction, in the beginning days online slots were designed only for desktops as smartphones didn't exist and playing on desktop could be considered as the original online gambling experience.
Desktops have large screens, so you can fully enjoy the graphics of the games. If you have a good set of speakers the games' soundtracks will sound considerably better too without the need for headphones. Good sound can significantly enhance your gaming experience, especially with music orientated slot games, like the rocks Guns 'N Roses and Mötorhead. Playing a slot game from your desktop can be as good and fully emerging as watching a good film from your desktop with the added bonus that you can win money when you play slots. And you can enjoy all this from the comfort of your own home.
The only disadvantage of playing slot games on your desktop might be that you can't take your game with you, whether you want to move about the house or go out. On the other hand, it could be good to dedicate a specific place in the house for playing slots. It's likely to increase your focus and with better focus you have better chances of winning.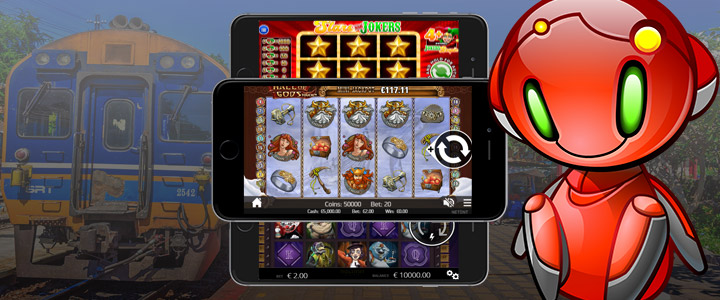 Playing Slots on your Mobile Device
Smartphones have become so much more than just phones. They are devices used for almost anything you can think of, from data storage and payment device to knowledge bank and entertainment hub. This means that nowadays you can access almost all quality online casinos from your mobile device and you can make deposits, play and withdrawal any winnings from your tablet or smartphone.
Due to the mobile casino you can play and win almost anywhere. This is ideal if you like playing slots, but you are not home a lot. Mobile gambling gives you the opportunity to wager a few pounds during your lunch break, when you are waiting for the bus or when you want to entertain yourself on longer journeys. And of course, you can play on your mobile device at home too and continue playing while you move from living room or bedroom to kitchen.
Although mobile gambling is a phenomenon that is here to stay, not all slots have been adapted for the mobile casino experience just yet. This means you could miss out on a great slot when you prefer playing from your smartphone or tablet. Sometimes mobile games can be slow, which interferes with your gaming experience. Online casino games take a lot of battery life and it would be frustrating to miss out on a great win because your phone battery has died. You always have to be aware of how much battery life you have left and charge your phone wherever you can.
The sound quality on smartphones tend to be less good compared to the speakers of most PCs. To enhance the sound quality and not to be a nuisance to others around you, it is advisable to always carry headphones with you. Although you got a whole world in your pocket, the screen on your smartphone is considerably smaller, so you are less immersed in the slot game than when you would be playing from your desktop. Larger tablets could be a great compromise. You can play on the go and can still enjoy your favourite slots on a larger screen.
Summary of pros and cons playing from desktop
Pros
The classic way to enjoy online slot games
Full immersion due to larger screen
Better sound quality with good speakers
Play in the comfort of your home
Cons
Can't play from desktop when you are not at home
Pros and Cons Playing Mobile
Pros
Play anywhere you are
Play slots especially designed for mobile
Cons
Not all slots have a mobile version
Playing on a smaller screen
Less game immersion
Mobile can run out of battery
Desktop or Mobile: who wins?
It is hard to decide on a clear winner as it depends on how you like to experience slot games. If you are on the go a lot and/or you like to entertain yourself with your mobile device, go for the mobile experience. If you like to play in a comfortable environment like your own home and you want to enjoy your slots on a large screen and with good sound, assuming your pc has good speakers, we say go for desktop. Playing slots on larger tablets could give you the best of both worlds. Play your favourite slots from your desktop and your mobile device and see what you prefer.
---
More news
Relevant news