Gamechanging 3D Live Casino From NetEnt
Categories:
News
|
Published by:
Ellie B.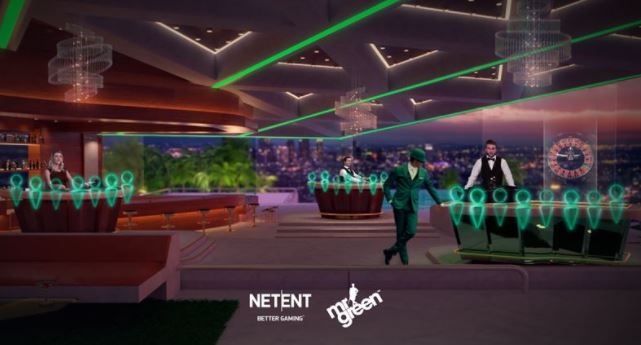 Online gaming has forever transformed the gambling industry, however over the last two decades live casinos have become the hottest new trend. NetEnt, one of the best suppliers of gaming systems in the world, has fully embraced live casinos and is always moving forward to take the market by storm. Now they launch a 3D live casino experience.
Live Beyond Live
The latest NetEnt news is the collaboration with Mr Green to develop 'Live Beyond Live' – a 3D live casino that allows users to enter the gentleman's luxury penthouse. This new product is designed to create a truly immersive experience. It offers a moving background, to enable an extremely realistic simulation, and a multi-table environment with several cameras rolling at once. The quality of the audio has been improved and users will enjoy being able to see other tables around their own game and experience the excitement that is going on elsewhere. The developers have also stated that more high-class locations will be available in the future.
Interestingly enough, NetEnt have released this product with a mobile-first approach, since they foresee that mobile users will continue to grow and claim a larger portion of the online gaming market. In NetEnt's year-end report for 2017, the company stated that "mobile games accounted for 54 per cent of [their] revenues in the fourth quarter". For the first twelve months, Live Beyond Live will only be available at Mr Green Casino, so you need to open an account there to enjoy the games on offer – but don't worry, the site has great welcome bonuses waiting for you.
NetEnt have been increasing their focus on their mobile gaming products. Besides the launch of Live Beyond Live, this year has also seen the launch of Live Casino Black Jack for mobile. In November 2017 they also released Finn and Swirly Spin™, which are innovative games designed to offer a better mobile gaming experience, in keeping with the advances in smartphone technology.
New Releases
Online casinos promise their customers an endless supply of new games that are continually in step with what is popular. For instance, NetEnt will release a Jumanji video slot, a branded slot title, in June 2018. A brick and mortar casino just cannot keep up with that breakneck pace, whereas online casinos always strive to be ahead of the latest popular box office hit.
Live casinos are the natural next step for online gaming, since they combine all the advantages of an online casino with those of a real casino. Live Dealer Casino introduces a more interactive, realistic and glamorous feel to gaming online. It also offers another distinct advantage, the element of trustworthiness. Trust has sometimes been an issue with online gaming platforms; however, since in live online casinos a video stream is directly focused on the dealer and the table, there is an added layer of transparency, which gives the player peace of mind.
Relevant news