El Jackpotto Slot Game Review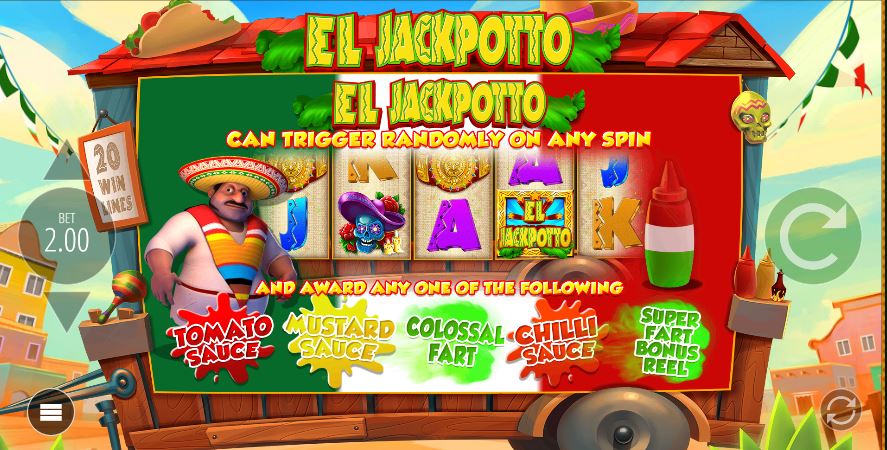 Get ready for the ultimate Mexican experience with El Jackpotto. Time to head to the land of colourful pinatas, unique soundtracks and wrestling with this online slot.
Overview of El Jackpotto
Are you ready to rumble with Blueprint's El Jackpotto, the masked wrestler? Celebrate the world of Mexican wrestling with this colourful online slot. Please check out the best online casinos to find out where to play.
El Jackpotto is a 5 reel and 20 pay line online slot with striking graphic designs and impressive gameplay. The slot machine is uniquely built and devoted to the Mexican traditions.
We are talking chillis, pinatas, sombreros, traditional music and bright costumes. You will love El Jackpotto and all the bonuses and prizes this slot has to offer.
Design
During the day, our Senor Burrito is a simple salesman. He is always wearing a wide smile, with his sombrero and bright white and red outfit. Then, at night he transforms into a mean looking Luchador, wearing a red mask, black hand bands, chilli pants and a wide, shining golden belt.
You can play on all devices. Although the game comes with high-quality 3D graphics, the user interface is simple. You can easily locate and apply different options on the screen.
The slot is set against a Mexican town. You will see brown houses under a very bright, blue sky. It is impressive how the reels are fixed in a cart with a red roof.
Symbols
As soon as you start the game, see a horse-pinata, musical instruments, a champion's belt, a skull from the Day of the Dead and playing cards (jack to ace).
The wild symbol is a Chilli pepper with a brown moustache and it can substitute all other symbols. Other high-value symbols include the game's logo, a piñata, the golden belt and the skull. However, J, Q, K and A are the lowest values in the game.
Note that the logo of El Jackpotto is a Super Stacked Symbol.
Features
The Ultimate Luchador Bonus
Trigger the Ultimate Luchador Bonus whenever you land three or more El Jackpotto symbols. You will also get a chance to spin the Wheel of Fortune which will reveal one of five bonus features.
Activating this bonus with four wrestlers only removes the weakest feature (Spank That Ass). But if you originally trigger the bonus with 5 wrestlers, you get the Big Money Bonus.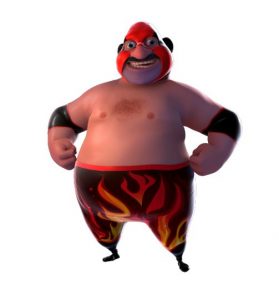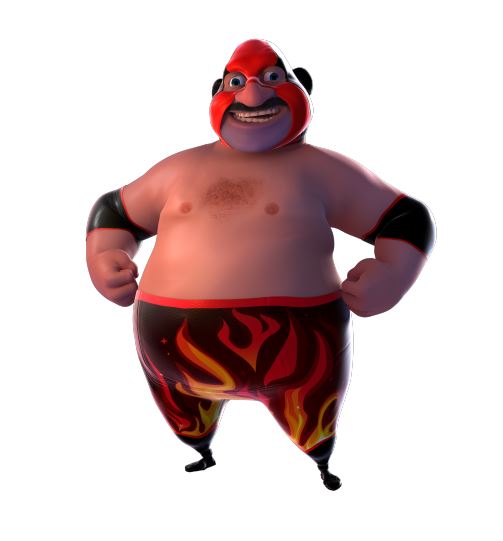 Here are all bonus options (from the best to the weakest):
• Big Money – Pick bonus symbols to increase your prize
• Ready to Rumble Free Spins – Free Spins where Senor Buritto is fighting with an opponent
• Rocket Free Spins – Five Free Spins and extra Wilds for each bonus round
• Pound for Pound – Pick champion belts and get payouts to qualify for the three best bonuses.
• Spank That Ass – Pick pinatas with prizes until you decide to stop.
Random Features
The following features can automatically start at any time throughout the game:
• Chilli Wilds – Extra wilds appear on different cells
• Mustard Wilds – They splash and drip on the reels to create a stacked wild
• Tomato Sauce – Fills the reels to reveal new symbols
• Colossal Fart Spin – The wrestler farts to expose a huge symbol
• Fart Shuffle – El Jackpotto farts again to mix symbols
• Bonus Boost – The wrestler continues to fart and reveal new bonus symbols
Verdict
If you are a fan of tasting different cultures, this game is an excellent choice for you. El Jackpotto is one of the most exciting Mexican online slots in the industry. Join the wrestler in his quest of being the Champion Luchador at a reputable online casino.
Relevant news