Claim Adventurous Fun on the Best Wild West Themed Slot Games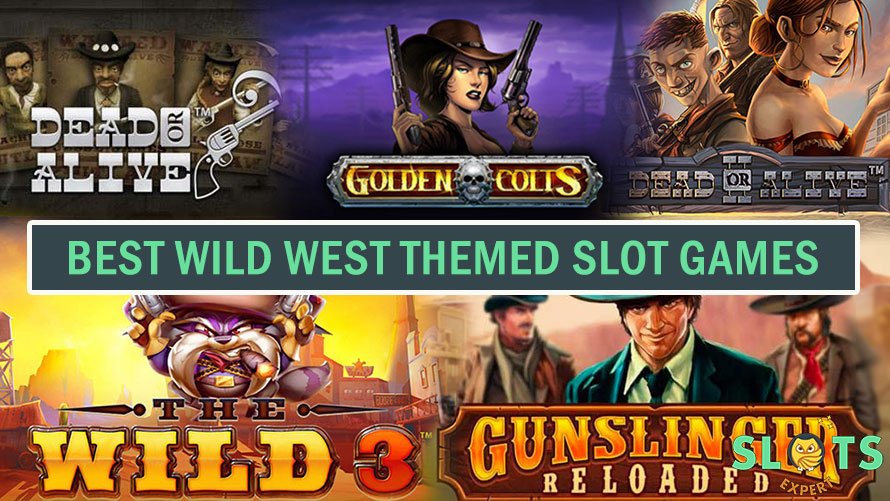 As you know, slot games come in many themes and some are more popular than others. Certain time periods tend to inspire game developers to create exciting slot games and the Wild West is one of those time periods. Find out more about that time in history. Discover why why it is such a popular slot game theme and which Wild West themed slot games will offer you the biggest and wildest adventures.
What is the Wild West?
The term the Wild West brings images to mind of cowboys, guns, saloons, bandits, bounty hunters and large stretches of desert. The Wild West is a term that refers to a short period in America history lasting about a decade and a half at the end of the 19th century. In this time period American settlers headed west to places no Europeans had been before. The Wild West is also called the American Frontier and this time period has let people's imagination run wild for more than century. There are numerous Western films and the Wild West has inspired countless other art forms and expressions of popular culture. One of those expressions are our beloved slot games. Here we will give you some insight into the Wild West slot game theme and invite you to play the most exciting Wild West themed slot games.
Why is the Wild West theme so popular?
The Wild West theme is highly popular in slot game land exemplified by the sheer number of slot games with this theme. Whether you love the Wild West theme or not, you might be wondering why it is so popular. Our answer to this question is because this time period embodies adventure, new opportunity and chances to get very rich. We all love an adventure, some of us dream of catching a bad guy or girl and get rich in the process. Others don't care much about what is considered right and just take advantage of what is on offer such as a steam train packed with cash or a bank that s not that well guarded. The Wild West makes us think of open plains, dry desert, discovering what Europeans considered new land, and the chance to start anew. Slot fans too love adventure, the idea of new opportunities and chances to make great riches.
Play some of the very best Wild West themed slot games
If you haven't played a lot of Wild West themed slots or you would like to know what else is out there, check out our list of the most exciting slot games set at the American Frontier. Have your slot game adventure and claim your chances for wild riches with our list of the very best Wild West themed slot games.
Fulfil your wildest Western dreams on Wild Wild West: The Great Train Heist slot game
When it comes to lawlessness, opportunism and adventure, the Wild Wild West: The Great Train Heist slot game has it all. The game has been visualised as a comic book telling the tale of a band of three thieves that find themselves at the American Frontier to fill their pockets with cash. You can do to the same by helping these three adventurers rob a train that is fulled with rich passengers and stacks of cash. Images on the reels include icons of the three bandits, a golden safe, lucky number seven and a steam train. You can make the most with 10 fixed pay lines and a number of exciting features. Besides standard Wild symbols, Wild Wild West: The Great Train Heist slot also features Spreading Wilds, Expanding Wilds and Multiplier Wilds that increases your winnings by factor 2. The additional Wild features can be selected with the Wild Selector Wheel once you have activated Free Spins mode. As is usual in slot game land, you trigger Free Spins by playing at least three Scatter symbols in one round. At the beginning of Free Spins you spin the Wild Selector Wheel and once it comes to a stop it will reveal the Wild feature you can benefit from while you enjoy your free rounds. Whenever you hit three Bonus Symbols appearing on reels 1,3 and 5 in one round, you trigger the Pick and Click feature. In this Bonus Game you get to choose a Bonus symbol that reveals a coin win that can be any thing from 5 times up to 50 times your stake. If all goes to plan you can scoop up winnings of up to £100,000. Wild Wild West: The Great Train Heist slot is a fun and a fabulously designed game filled with exciting adventure. Saddle your horse and head West to fulfil great win potential on Wild Wild West: The Great Train Heist slot.
Rob a bank for a good cause on The Wild 3 slot game
If you like playing slots that are fun and quirky, then hit the reels of The Wild 3 slot. On this highly entertaining slot game the Robin Hood theme of stealing from the rich to give to the poor has been transported from Nottingham's Sherwood Forest to the Wild West. On top of that, the Wild 3 from the slot game tiles are animals in human form. The Wild 3 is another band of outlaws- this is the Wild West after all- that has a noble mission. The slot's heroes are heroes Buck 'Five Star' Lupus the sly coyote, Angus 'T-Bone 'Oxblood the strong bull, and Cucho 'El Loco' Mimoso the quick and unpredictable racoon. Their mission involves stealing from evil banker Baltimore to give the loot to the people who have fallen victim to Baltimore's greed. Each member of the Wild 3 as well as the shadow of evil banker Baltimore make an appearance on the reels. Other images include Baltimore's bank, its contents such as vaults and money bags, and cacti of the Wild West. The Wild 3 slot offers a fun mission-based game play. This means you get to fulfil several in-game assignments to progress in the game. Once you have completed an assignment you are awarded with lucrative bonuses such as cash prizes, multipliers and free spins. You start with a 3-set mission. The game keeps track of your progress, so if you stop playing and log in at another time, you can continue your mission where you let it. The Wild 3 slot game let's you choose from eight different missions:
Free Games
Big Win
Lock n' Load
Low five of a kind
High five of a kind
Wild 3 feature
Spin 20
Spin 100
In addition to these eight mission, the Wild 3 slot also has the Rob the Rich Bonus Game that is triggered after you have completed the 3-set mission. The Bonus game let you select three from a total of 25 money bags that can bag you – pun intended- goodies such as cash prizes and multipliers of up to x100. The game also has a Super Bet functions with two levels that allow you to crank up the RTP up to 96.78%
The Wild 3 is one of the most original, engaging and exciting Wild West themed slots in online casino land. If you love a quirky game with tons of engaging features make sure to fulfil your noble duty. Help the Wild 3 on their mission and get richly rewarded on The Wild 3 slot game.
Claim spooktaculair treasures on Golden Colt slot
If you prefer your Wild West themed slot a tat ominous, then Golden Colt is the game for you. Game developer PlayNGo initially created Golden Colt exclusively for an award-winning online casino and the game is now on general release. Golden Colt slot is set in a ghost town in the Wild West where the sun has set. In this spooky town a group of bounty hunters is search of the Dead Sheriff. Legend has it that the Dead Sheriff owns the golden colt and our bounty hunters want to lay their hands on this valuable treasure. The game has a 5×4 structured grid and 40 paylines on which you can hit your winning combinations. The three bounty hunters are called Gunslinger, Gambler and Girl and each of them appear on the reels. The icon of the Dead Sheriff is the highest value symbol. The Wild symbol is represented by the image of the Bull Skull and the symbol of the Golden Colt's Box functions as the Scatter. Play at least three of the latter and you trigger the Bonus Game that offers no less than seven features. These Bonus Game features are the following:
Ace High Gang awarding you three rounds of free spins
Bull Wild that turns one or two reels completely Wild on each free spin and gives you an additional three free rounds.
Law of the Wild which gives you one free spin; Dead Sheriff granting you a Stacked Wild that can appear on the centre reels 2,3 and 4 and if the Stacked Wild appears on all three reels you get a re-spin.
Gunslinger giving you one free spin that comes with a multiplier of up to x30.
Gambler awarding you one free spin and an additional Wild symbol on the reels.
Most-wanted List letting you select one of 20-most wanted posters to be granted additional bonuses such as cash prizes, free spins, additional Wild symbols and multipliers.
Golden Colt gives you the chance to claim up to 2,500 times your stake. So get into some ghost hunting in the Wild West and reward yourself with gunslinging winnings.
Spin it again on Gunslinger Reloaded slot game
Gunslinger Reloaded slot is an updated version of the Gunslinger slot. Compared to the older version Gunslinger Reloaded features graphics with higher definition and improved features. This 25-payline slot game is set in the local saloon where you get to hang with adventure seekers and outlaws who keep themselves entertained by Western belles and drinking and playing cards. On the reels you find saloon and Wild West related images such as guns, most-wanted posters, sheriff badges, playing cards and chips, money bags, and, in case you forgot where you are; saloon signs. The Wild symbol not only fulfils its usual symbol subsituting functions but also pays out on its own. It is the higehst paying symbol on Gunslinger Reloaded awarding you 400 times your bet when you hit five of a kind. The Scatter symbol also pays out when part of a winning combination and can grant you no less than 150 times your stake if you manage to play five symbols in one round. In addition to Wilds and Scatters that pay out, you can make the most of several engaging features on Gunslinger Reloaded to spice up your Wild West slot game adventure. You can claim free rounds once you have triggered the Bottle Free Spins feature. Turn in the outlaw with the biggest bounty on their head and get rewarded with multipliers of up to 960 times your bet with the Bounty Hunter feature. As you headed West for the cash, don't miss out on your chance of hitting the progressive jackpot of several tens of thousands of pounds in the Shoot the Cards feature. Get your guns and claim your bounty on Gunslinger Reloaded slot game.
Get your Bounty on Dead or Alive & Dead or Alive II
Dead or Alive is a high volatility slot game classic that got an upgrade in the form of Dead or Alive II. Dead or Alive has been one of the most popular slot games since its launch. Not only the Wild West theme, but also the high variance is a major attraction especially to higher risk players. Dead or Alive has a more classic feel in terms of graphics. Dead or Alive II is a worthy upgrade to the original with improved graphics and additional features. The games are both set in the saloon and feature the same symbols on the reels: bottles of booze, cowboy hats and cowboy boots, revolvers and sheriff badges. No Wild West themed slot is complete without outlaws and these too feature on the reels of Dead or Alive and Dead or Alive II. There are icons of five different outlaws that are each named after historical figures. These five outlaws are Jesse James, Billy the Kid, Della Rose, Belle Starr and Apache Kid. Each outlaw has their own reel and can only appear on that reel. All five of them function as the symbol substituting Wild symbol. Besides triggering Free Spins, the Scatter symbol, represented by the images of the ox's skull with the two revolvers, also pays out on its own. You can expect a lucrative 2,500 times your bet when you hit five of a kind. When you activate Free Spins by playing at least three Scatters on the reels in one round, you get to choose from three different Free Spin modes on Dead or Alive II. These are Old Saloon Free Spins, High Noon Saloon Free Spins and Train Heist Free Spins. Each mode takes place in a different setting and has its own volatility level. Old Saloon Free Spins has a medium volatility level. Multipliers of up to x3 are applied to your winnings and any Wild symbols that appear become sticky. You can win additional free rounds in this mode. High Noon Saloon Free Spins takes you to a more upmarket version of the standard saloon. In this mode any Wild symbols that appears on the reels not only becomes sticky but also multiplies. On top of that, you win a multiplier for every Wild symbols you play on the reels. This Free Spins mode allows you to engage the Max feature giving you the chance to win up to a staggering 100,000 times your bet. Train Heist Free Spins has the lowest volatility of the three modes and as you can guess from the name you find yourself in the middle of a train heist. Every Wild you play on the reels, which s tracked by the Multiplier Meter, gives you an additional free round. Once you hit 16 on the Multiplier Meter your winnings are multiplied by x16 and you get an extra five free spins. Dead or Alive and Dead or Alive II are true Wild West slot game classics with an exciting high volatility game play and excellent win potential. Play Dead or Alive for a more classic feel and Dear or Alive II for top notch graphics and highly engaging Free Spins Games.
Relevant news