Beam up quirky fun and alien winnings on Visitors online video slot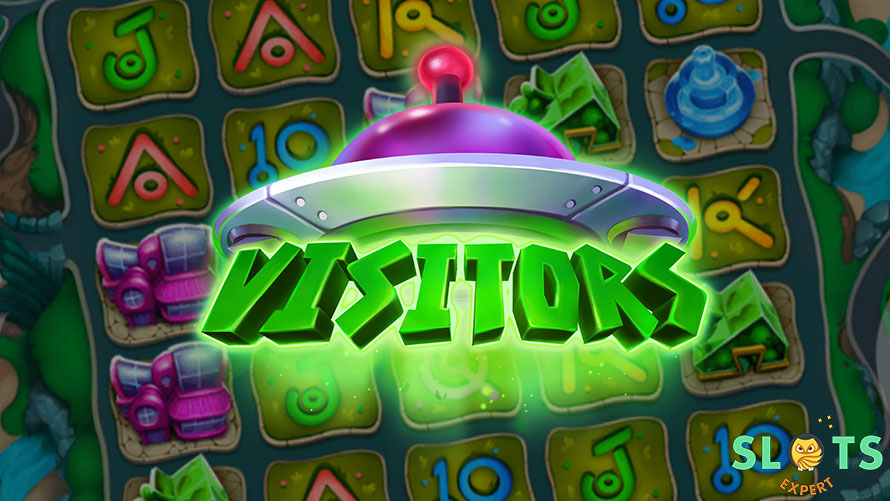 Alien invasions have never been this fun on wacky alien-themed video slot Visitors beamed down from outer space for you to make spaced-out winnings
Slot Game intro
Visitors slot is a quirky alien-themed game on which a seemingly green and tranquil town in the middle of nowhere is invaded by visitors from outer space. These aliens are not evil per se, but they are mischievous for sure as they turn the once tranquil town completely upside down with their pranks. These alien pranks include blowing up houses (with air), cow, abduction and starting fires, which can help you to make winnings you can beam up all the way to outer space.
Visitors

Layout
5×5
Paylines
3125 win ways
RTP
96.1%
Progressive Jackpot
No
Special features
Wild symbols, Re-spins, Expanded symbols, Scatter symbols, Multipliers, Free Spins
Maximum win
£1,000.000
Game provider
ELK Studios
Visitors Gameplay
Visitors slot has a well-designed and straightforward game play. The squared grid is set in a green fantasy town. The reels display the well-known card symbols as the lower value symbols in a quirky design. The higher value symbols are houses as they might appear on the aliens' home planet. Your game is accompanied by an upbeat, oddball techno soundtrack letting you know that aliens are amongst you.
Game Features
Visitors slot contains conventional features that are originally named and applied in a fun way so that alien pranks can provide you with plenty of slot gaming fun.
Wild symbols
The Wild symbol on Visitors slot appears fiery and fulfils its usual symbol substituting function. A Wild symbol awarded through the Alien Attack Re-spins feature will become sticky on the re-spin which is explained below.
Re-spins
There are three different Re-spin symbols. All three are alien icons with the subtle difference that one alien icon has green eyes, another has yellow eyes and the third has purple eyes. Each Re-spin icon corresponds with a Re-spins feature. You are awarded a re-spin whenever two of any Re-spin symbols appear in one round: one on reel 1 and the other on reel 5. Depending on the Re-spin icon you have played- yellow, green and/ or purple, you are awarded any two of the following Re-spins features:
Re-spins features
Big o' Beam
A randomly chosen symbol expands to a 2×2 or 3×3 size and stays in place for the re-spin.
Abductions
When this feature is triggered on your re-spin, the alien visitors play pranks on the villager by abducting their cows. A win multiplier of up to x15 is applied to any wins you hit on the re-spin
Alien Attack
When the visitors are launching a full-blown attack, you can count on up to 5 Wild symbols that will be randomly added on the reels and stay in place for the re-spin.
Scatter symbols
The flying saucer space ship functions as the Scatter symbol with which you can trigger the Free Spins Alien Invasion Bonus Game.
Free Spins
As per usual, you need to play at least 3 Bonus Game Scatter symbols in one round to activate the Alien Invasion Free Spins bonus game. You play Free Spins mode on a mini reel that displays silver and golden UFO symbols. You start off with 5 free rounds and whenever you hit a silver spaceship symbol not only do you get an additional free spin, but you also double the value of the win multiplier. You double the win multiplier every time a silver UFO lands within the multiplier area and you can increase the win multiplier up to an eye-watering x4096. Whenever a golden UFO lands, you instantly double all multiplier walls.
Verdict
Visitorsis a fun and original take on the alien slot game theme. The game has well-designed graphics and animations, and excellent win potential. In addition to luck, you do need patience and sufficient funds to trigger the lucrative features at the right time to hit big winnings. Besides that, Visitors slot is bound to appeal to a wide array of players and might be a perfect remedy in these unprecedented times.
Relevant news