Starburst slot review – Try it for fun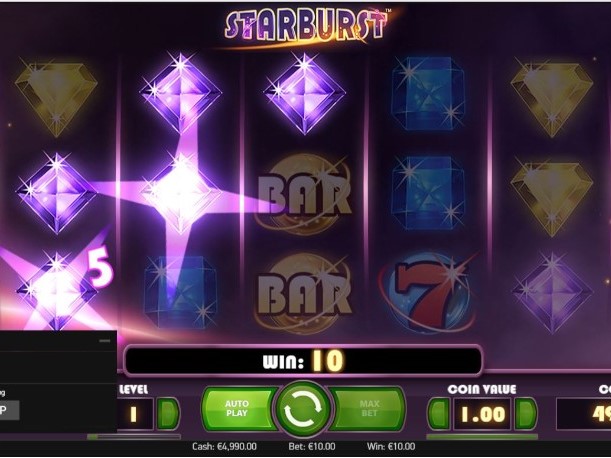 Slot games have always managed to remain firm favourite with the public, despite other games that have caught people's attention. Though the games are many, there are certain among them which have managed to stay at the top of the charts since their release. One such is the Starburst slot; true to its name, it bursts with entertainment. Read our review about this NetEnt classic.
Starry Facts
This simple yet interesting game with hidden twists and surprises has always managed to be a crowd puller. Released by the industry leader NetEnt in 2012, the 10-payline five-reel slot manages to balance both a retro and futuristic theme with a myriad of colours in the background. The gameplay contains different coloured gems as symbols, with varied payouts and features classic casino symbols such as bar and lucky 7.
The game icon symbol is a multi-coloured star, which acts as the wild. The wild symbol appears in the second, third and fourth lines and it turns the entire reel in to wild symbols, triggering a free spin. A maximum of three free spins can be got through this feature. There is no bonus round to be found, though the game has a special both-way win feature. Unlike other slots, Starburst will pay out for combinations from right to left or from left to right. This aspect, along with the wilds, ably compensates for the lack of bonus rounds or multiplier rounds and offers numerous opportunities for players to win.
Betting per line starts at just 0.01, with a top per-spin bet of 100. The immersive slot has a maximum payout of 50,000 coins, so if the coin value is set to the highest, the jackpot could potentially be €50,000. This is a game that is frequently featured on free spins offers for new casino users, and it's easy to see why. Fun gameplay, a catchy and hypnotic soundtrack and 96% RTP make for a compelling game.
Mobile Gaming
With the proliferation of mobile phones, games have started vying with each other for the mobile gaming market. Not to be left behind, NetEnt have released it for the mobile platform too. A player can enjoy the same high-quality audio, video and graphics with an easy to use layout. To make it easier for the player, and to optimise the gaming experience, the bet level, coin level, auto-play and quick-play options are accessed through separate menus.
How it Compares
Fuelled by the success of Starburst, Microgaming came up with a similar concept, Star Dust, as a rival. With a comparable retro theme, they tried to gain an edge by including a bonus round. They weren't entirely successful, as the RTP remains the same despite the bonus round, and players still prefer the superior graphics of NetEnt's game.
Conclusion
Starburst offers simple gameplay and a sensory treat. The lack of bonus rounds or progressive jackpot is forgotten due to the sparkling journey that the game guarantees. The medium-volatile game pays out medium and small wins regularly, not to forget the both-way win feature which makes it even more appealing. A true star of the genre indeed!
Try the game-play here just for fun
You rather try it for real money?
Relevant news