Get even more of a good thing on Reel Rush 2 slot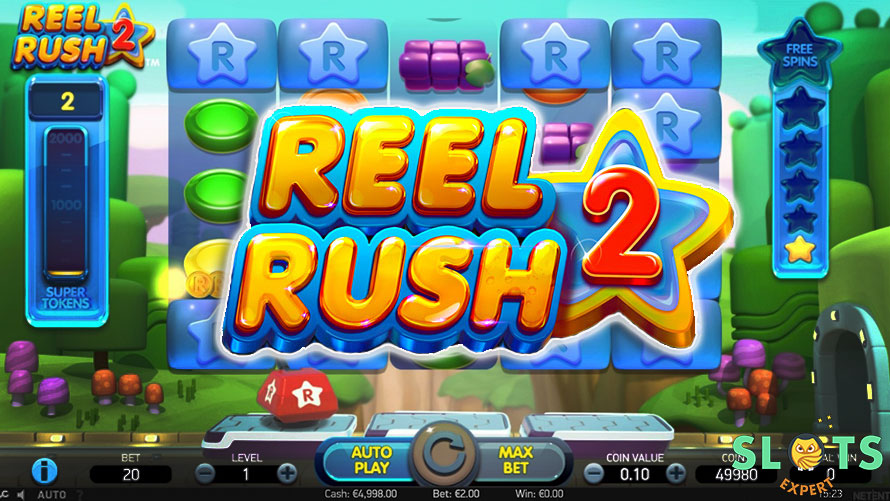 Get a new load of slot gaming sweetness and pile up the sugary wins on sequel slot game Reel Rush 2.
Slot Game intro
In the sequel to the original Reel Rush slot, game developer NetEnt has cranked up the pace and the features for even more delicious slot gaming fun. Both Reel Rush and Reel Rush 2 are original video slots inspired by the classic fruit machine. Like on the original, Reel Rush 2 is set in a sugary fantasy land that seems to have been taken straight from a Nintendo game. The land and the reels are filled with sweets and classic symbols that take the shape of classic sweets in all sorts of colours.
| | |
| --- | --- |
| Reel Rush 2 | |
| Layout | 5×5 |
| Paylines | 45 up to 3,125 Win Ways |
| RTP | 95.53%- 96.58% |
| Progressive Jackpot | No |
| Special features | Wild symbols, Multipliers, Re-Spins, Free Spins, Super Free Spins, 8 Random Modifiers |
| Maximum win | £500,000 |
| Game provider | NetEnt |
Reel Rush 2 Slot Gameplay
At the start of your game the grid of Reel Rush 2 has a an unconventional 1-3-5-3-1 row structure. The grid floats above a track appearing in the forefront of Reel Rush 2's sugary fantasy land. The remaining blocks of the 5×5 grid structure are covered and Re-Spins and other modifiers can help you to unlock these blocks. On each spin a three-carriage vehicle appears on the track underneath the reels carrying extra features that are added to the game. These extra features can help you unlock blocks to expand the playing area and add additional features to the game. The standard grid offers 45 win ways which is increased to a whopping 3,125 win ways when you managed to expand the reels to the 5×5 row structure.
Special Features
Reel Rush 2 slot is jam-packed with special features that can deliver you a 'reel' slot gaming rush indeed.
Wild Symbol
The Wild symbol appears on all reels except the first and fulfils its usual symbol-substituting functions.
Reel Rush 2 Random Modifiers
The three-carriage vehicle on the track can trigger up to the three Random Modifiers on each spin. There are 8 Modifiers in total and these are:
Random Wilds
You are awarded 1, 2 or 3 Wild symbols that are randomly placed on the reels. In the base game Random Wilds won't be added on top of another Wild, nor on a block, or on the 1st reel.
Block Breaker
A structure resembling a mini tank fires on the grid removing 2,3 or 4 blocks revealing the symbols underneath. Every time two blocks are unlocked 1 star is added to the Free Spins Meter that is positioned on the right side of the screen. When all blocks are removed you have complete filled the Meter and you activate Free Spins mode.
Symbol Multiplier
A randomly chosen symbol (the Wild is excluded) is awarded a multiplier of x5, x10, x15 or x20. All winning combinations that include this symbol are cranked up with the awarded multiplier. This modifier can be awarded to different symbols during the same spin which can significantly increase your win potential.
Symbol Upgrade
A randomly chosen symbol is upgraded to the symbol one level up on the pay table. The upgrade applies to all symbols matching the chosen symbol and the pay out of any winning combinations you land with this symbol are are upgraded accordingly.
Extra Free Spin
You get a extra free round in Free Spins or Super Free Spins mode.
Extra Super Tokens
You get 3 or 15 Super Tokens that will be added to the Super Token Meter.
Multiplier Boost
You are awarded a one step increase of the Progressive Multiplier Meter.
Second Chance
This modifier can be activated in the base game and in Re-Spins mode and you are awarded a re-spin when the previous spin hasn't landed you a win.
Modifiers can also be triggered with a bet increase.
Other Reel Rush 2 Features
Re-Spin
Every winning combination in the base game triggers a re-spin. You can land up to 5 re-spins in a row. Each re-spin increases the number of win ways which can reach up to 1,875 in the main game.
Free Spins
The Free Spins round is triggered when the Block Breaker Modifier is active and the little tank removes the last remaining blocks to reveal a 5×5 grid structure. You are awarded 8 free spins and you can win additional rounds with the Extra Free Spin Modifier.
Super Free Spins
You trigger Super Free Spins mode by collecting 2000 Super Tokens. You can collect Super Tokens through your game play, by buying Super Tokens or by gambling the Tokens you have with a chance to activate this mode. You can also trigger Super Free Spins mode through Standard Free Spins. In Super Free Spins too, you get 8 free rounds and can win extra Super Spins through the Extra Free Spins Modifier. A multiplier is added to your win. This multiplier increases with with every winning combination. You can also be awarded multipliers through the Multiplier Boost Modifier.
Both Free Spins and Super Spins mode offer 3,125 win ways.
How does Reel Rush 2 compare to the original?
As mentioned above the design of both games are very similar and in addition to a lot more features, Reel Rush 2 has been designed in even brighter colours than the original. Reel Rush 2 has a lower RTP of up to 96.58% compared to 97% on the first instalment. Both slots have a medium volatility level and Reel Rush offers maximum wins that or significantly bigger than on the original.
Verdict
Reel Rush 2 is a very worthy sequel to the original. As you can tell from the review the game has a great many feature which significantly fires up an already fast-paced first instalment. The danger of a slot game with a load of features is overload and overwhelm. However, NetEnt has been able to avoid this danger and feature-fuelled Reel Rush offers a game play and win potential that is as sweet as pie.
Relevant news