Play the Best video slots for the Second Wave of Self-Isolation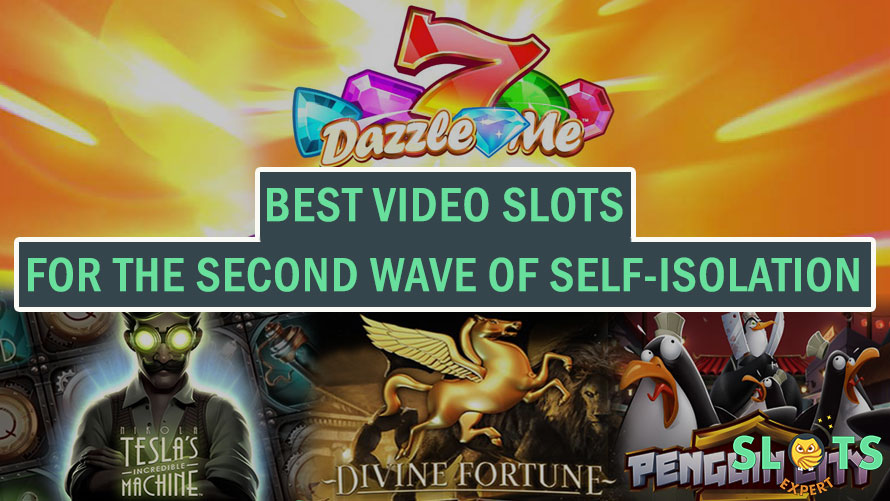 The novel coronavirus has been dominating headlines and impacted lives across the world. Several countries, including the UK are dealing with what is called 'the second wave' and restrictions that were loosened only a few weeks ago have been tightened again. Amongst these measures are renew calls to self-isolation. If you are not able to leave the house for whatever reason, no that the sun always shines in covid-free online casino land. Make the most of a challenging situation and get your fun with online video slots.
Enter another world
We would like to draw your attention to a number of amazing online video slots to weather any covid or general autumn blues. Forget the everyday world for a moment and step into a different reality of your choice. Whether you want to step back in time, be dazzled by another reality or just want to have a giggle, enjoy great gambling fun and fulfill your chances to make fabulous winnings on the following slot games.
Claim otherworldly riches on Divine Fortune and Divine Fortune Megaways slot game
Divine Fortune transports you back to the time when ancient Greek myths were born. The reels of this beautifully designed game are flanked by two stunning Greco-Roman statues of either women or lion figures, depending on the version you play. Symbols on the reels include icons from ancient Greek myth such as the winged horse Pegasus, the Minotaur; the figure that is half man and half bull, and Medusa, one of the Gorgon sisters famous for carrying snakes instead of hair on her head. In addition to these mythical creatures you find animal symbols on the reels such as a fierce lion head and a sharp-eyed falcon.
Divine Fortune slot comes in two versions: the classic one with 20 paylines, and Divine Fortune Megaways that has up to 1,1769 win ways. Divine Fortune is a local progressive jackpot game and on the Megaways version you can hit wins that run into seven figures.
On Divine Fortune you play with a classic 5×3 grid structure that has been expanded to a six-reel grid structure on Divine Fortune Megaways. On the Megaways version every reel contains at least two symbols and can display up to seven symbols. As is usual with Megaways slots, when every reel contains the maximum of seven symbols you play with the maximum number of win ways to make godly winnings. Game features include Falling Wilds, the Wild on Wild Feature and Free Spins.
Hit mythical wins while in self-isolation with Divine Fortune and Divine Fortune Megaways.
Unlock your inner genius on Nikola Tesla's Incredible Machine slot
While you are stuck at home you might as well put your inner genius to work to deliver you electrifying slot gaming fun. You might know the name Tesla from the high-class electric car, but this vehicle was named after one of the greatest scientists and inventors of all time called Nikola Tesla.
You can catch a glimpse of Nikola Tesla's genius on the slot named after him: Nikola Tesla's Incredible Machine. The slot displays the inventor's sparsely lit lab which is designed in retro Art Nouveau style. The reels are placed on a gigantic device, the incredible machine from the slot game title.
In the background we see Tesla himself pottering about in his lab making adjustments to his giant machine. The slot has 25 paylines and with a number of innovative features you can make some genius winnings. Besides video slot game staple features Wild symbols and Free Spins, Tesla's Incredible Machine slot offers you Stacked symbols, the Reel Clone and the Energy Burst feature.
Crank up your win potential on Nikola Tesla's Incredible Machine slot.
Let your game sparkle on Dazzle Me slot
Dazzle Me does exactly what it says on the proverbial tin. It is a colourful slot game packed with sparkling jewels to brighten up your game and make dazzling winnings. Dazzle me is inspired by the classic fruit machine and besides the glittering gemstones, you find old school symbols such as lucky-number 7s and bell icons on the reels.
The slot has an unconventional 3-3-4-4-5-row grid structure and comes with 20 paylines and a number of sparkling features. These includes the staple feature Free Spins as well as Linked Reels and Dazzling Wild Reels. The latter feature is triggered at random and turns an entire reel wild. With a bit of luck you can cover the entire grid with Wild symbols for fabulous win potential.
The Linked Reel feature becomes active once you have entered Free Spins mode that is conventionally triggered by playing multiple Free Spins Scatters on the reels in one round. You are awarded 8, 12 or 16 free spins and during your free rounds the Linked Reels feature connects and synchronises any two reels of reels one, two, three and four. Thanks to its low volatility Dazzle Me is a beginner friendly game and kind to lower risk players.
Be dazzled while you can't leave the house and make sparkling winnings on Dazzle Me slot game.
Go for Wacky Winnings on Penguin City slot
If you like your escape from the outside coronavirus dominated world to be slightly wacky, then we highly recommend the quirky slot Penguin City. The aim of the game on this slot is to help the penguins that are producing slave labour in the kitchen of the Penguin Emperor escape.
During the introduction we see a penguin chef running in slow motion with the sun shining on its happy face. Only when the image is zoomed out we see that this penguin is running for his life on a conveyor belt but he can't escape from being boxed in as Chinese take-away food.
This quirky intro sets the tone for this oddball slot game. The main game is set at a Chinese food market while you play Chinese food-related symbols on the reels. These symbols include big pans with boiling fish, bowls of soup and flavour-enhancing soy sauce. You trigger Escape mode, that takes you to a different setting, when you play a Wild as part of a winning combination on the reels. While the soundtrack in the base game is tranquil, in Escape Mode it is considerably more animated as you help penguins escape from Penguin Emperor's kitchen.
This deliciously fun slot has 243 paylines. It allows you to win from both left to right as well as from right to left and if you manage to let all enslaved penguins escape, you can hit winnings of up to 1500 your stake.
Enjoy wacky fun and deliciously weird winnings on Penguin City slot game.
Relevant news