Play exciting Slot Games with a high Return to Player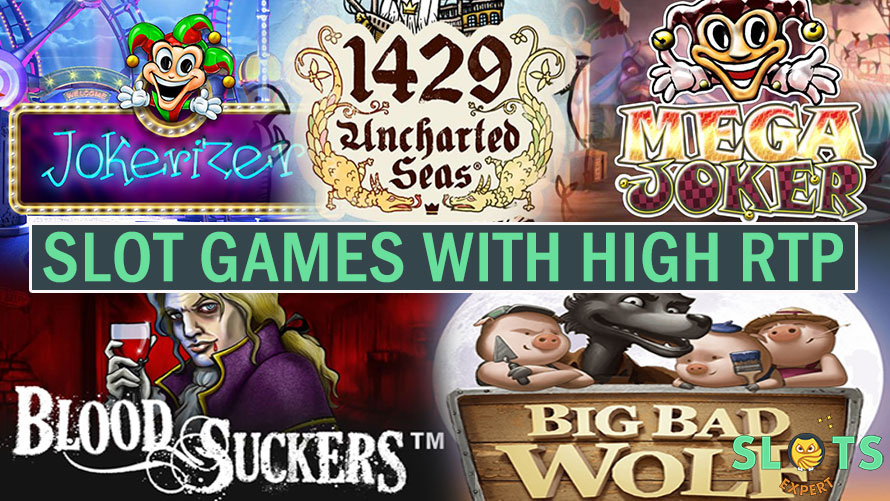 Online slot games attract many players for a variety of reasons. One of the the big attractions of online fruit machines is that they give you the opportunity to win cash prizes. The likelihood of winning big money depends on several factors. These factors include bet levels, maximum bets and the Return to Playerpercentage. We are keen to help you on your way towards happy cash winnings on online slot games. Find out what RTP means for your game and how you can make the most of your online casino fun with our Top Five slot games with high Return to Player rates.
What is Return to Player?
In igaming the Return to Player, RTP for short, is a percentage that reflects the proportion of all wagers on a specific game that are expected to be returned to the player on the long terms. You can consider the RTP the average Return on Investment, ROI, of your bet. If the RTP on a certain game is set at 97%, this means that throughout a session in which you wager £100 you can expect to make winnings of £97 in total. RTP is measured on the long term and is calculated with the help of mathematical modules and simulator programmes. The RTP of a game would be different if you were to wager your £100 in just a few spins rather than over the course of 30 minutes or one hour. RTP reflects average returns on the long term, so in a few spins you could cash in much higher returns that deviate from the average.
Great Online Slots with high Return To Player
As we mentioned previously, there are several factors that make a great and engaging game. RTP is just one of those factors that can increase your chances of making attractive cash winnings. Unlike bet levels and maximum wins, a game's RTP tends to be listed in a slot game review or overview and it is easy to find out what the RTP of a particular game is. Below you find our top five of exciting online slot games with a high RTP of at least 98,60%. Not only do these games have a great design and engaging game play, you also have the highest chances of getting a return on your bets.
Mega Joker
RTP 99.00%
Mega Joker is a classic online slot that has one of the highest slot game RTP percentage in online casino land. The classic online fruit machine immediately transports you to a gamble hall or brick-and-mortar casino, while you play wherever you are from your mobile device or in the comfort of your own home from your desktop. Mega Joker has a two sets of classic 3×3 structured reels. The bottom grid is used when you play in regular mode and you use the top set of reels as well when you decide to play in Supermeter mode. You can engage this mode as an upgrade to the highest bet level in the base game that is played on the bottom reels. Mega Joker slot is set on a classic fruit machine in an indoor space. The game's background is a stylish wall and two lush plants have been placed on either side of the slot machine. As a classic three-rowed slot with five pay lines the game has few bonus features. Mega Joker has a progressive local jackpot and with a great RTP of 99% you can draw in some exciting winnings. Mega Joker is a local progressive jackpot slots. This means that the game's prize pool continues to grow until it is hit. As the games' jackpot is local, the size of the prize pool differs from casino to casino. Go for a classic online fruit machine and win big on Mega Joker slot.
1429 Unchartered Seas
RTP 98.60
Not only does this slot allow you to unleash your inner sea explorer, it also gives you the chance to make some explorative winnings thanks to the games high RTP. 1429 Unchartered Seas slot refers to the year 1429 in which the famous sailor Christopher Columbus went on his first voyage in an attempt to reach Japan via the western route. Instead of reaching Japan he set foot in the Americas making the continent known to Europeans. The 25-pay line slot game is set on an ancient map and symbols on the reels include classic icons for the sun, moon and stars. Other imagery includes icons of mythical sea creatures such as a mermaid, the Kraken and a animal resembling the Loch Ness monster. The Wild symbol fulfils its usual symbol substituting functions and appears on the centre reels 2,3 and 4. Whenever the Wild symbol is part of a winning combination, the Wild turns into an Expanding Wild covering the entire reel. Free Spins mode is activated by playing at least three Bonus Scatter symbols in one round. The classic icon of the compass functions as the Bonus Scatter symbol. You are awarded 10, 20 or 50 free spins when you play three, four or five compass symbols respectively. If you have played three or four Scatter symbols in the activating round, you can win more free rounds in Free Spins mode by playing additional Bonus Scatter symbols on the reels. 1429 Unchartered Seas slot game doesn't have a lot of features. Yet, well-designed graphics and that pleasantly high RTP allow you to have your slot game fun and enjoy chances to make great cash winnings as well. Find your riches on an ocean voyage: play 1429 Unchartered Seas slot.
Jokerizer
RTP 98.00%
Another online slot with a high Return to Player inspired by the classic fruit machine is Jokerizer. Jokerizer slot is set in a circus environment and comes with a spooky twist. The game has a fun and slightly ominous soundtrack while you play classic symbols such as fruit, bell and star icons on the reels. This well-designed game has 10 pay lines and has a Mystery Joker Bonus Game which is triggered with the help of Joker Scatter symbols. Joker symbols appear on reels 2,3 and 4. Whenever you play Scatter Joker symbols in one round that are horizontally or diagonally aligned you can claim a Mystery Win of 6,000 coins. If you play at least three Joker symbols anywhere on the reels in one round you hit a Mystery Win of between 1,000 ad 6,000 coins. Jokerizer is straightforward game with a beautiful design that doesn't have any Wild symbols. It does have a high RTP and pay out mystery wins, so claim the last laugh and play Jokerizer
Big Bad Wolf
RTP 97.35
As you might be able to guess, Big Bad Wolf slot game is based on the well-known fable Three Little Pigs. In addition to a high RTP, the slot offers 25 bet lines and exciting feature. Symbols on the reels include the main characters; the three pigs with their houses and the big bad wolf that can blow all these houses away. Besides the regular Wild symbol, Big Bad Wolf slot also contains the Pigs Turn Wild feature. This feature is triggered during another feature; Swooping Reels. The Swooping reels feature has the substituting characteristics of a Wild symbol. However, rather than helping you complete a winning combination, this feature replaces the symbols of a winning combination with new ones. This way you have another win chance within the same spin. Whenever you play a consecutive win during the Swooping Reel feature, you activate Pigs Turn Wild which replaces one of the Pig icons with a Wild symbol. You trigger Free Spins mode on Big Bad Wolf slot, by playing at least three Wolf Scatter symbols on the reels in the same round. You get three free spins and can activate more by playing additional Scatters on the reels. Any extra free spins you win, will be awarded during the Blowing down the house feature, which is an in-Free Spins-mode feature. You activate the Blowing down the house feature whenever you play three moon symbols in the same round in Free Spins mode. Once the feature is active, the Big Bad Wolf either blows down the wooden house or the brick house. You also get an extra free spins and any additional free rounds you manage to win by playing extra Scatters on the reels in Free Spins mode. Any winnings you make during the Blowing down the house feature are doubled. Don't miss out on the great rewards this stunningly-designed game has on offer. Play Big Bad Wolf slot for delicious chances to win up to 1,268 times your stake.
Blood suckers
98.00%
Blood suckers is a older slot that remains incredibly popular with players. There is a second instalment to the slot simply called Blood suckers 2. The second edition has the same features and comes with improved graphics. The RTP of Blood suckers 2, however, is considerably lower, so if you are keen on an online slot classic with a high RTP, we suggest you go vampire hunting on the original edition. Blood suckers is a slot with 25 pay lines and a few exciting features. Symbols appearing on the reels include images of vampires and vampire-slaying weaponry such as garlic, bibles and hammers and nails. You can count on Wild symbols and in addition to activating Free Spins, Scatter symbols also pay out on their own. Once you trigger Free Spins you can play with 10,20 or 30 free rounds depending on whether you played three, four or five Scatters in the activating round. Any winnings in Free Spins come with a x3 multiplier and you can win more free spins by playing more triggering Scatter symbols on the reels. You activate the Vampire Hunt Bonus Game by playing at least three Bonus symbols in one go. The Bonus Game takes you to a burial chamber that is filled with coffins. Vampires are hiding in a few of those coffins and your aim is to find them and defeat them. You open a coffin by clicking on it and you are awarded a coin win for every vampire you defeat. The Bonus Game comes to an end when you open a coffin and a bat flies out, the Bonus Game. Go vampire hunting with a high RTP and play Blood suckers slot game.
It is straightforward to discover the RTP of a particular game as this tends to be clearly listed in a game review or overview. How all games with different RTP's all compare might be more challenging to descern. We hope our Top Five of high RTP slot games can help you making your choice of slot games more specific. Our Top Five games come in a variety of themes. The classic slot and the old school video slot are well-represented. You can enjoy a high RTP on adventure-themed slots as well as vampire-themed online fruit machines. If you prefer fairy-tale theme, then Big Bad Wolf is bound to offer you top entertainment with excellent graphics, exciting game features and a great RTP. Play now for fabulous fun and great winnings.
Relevant news