Review of Monopoly Live by Evolution Gaming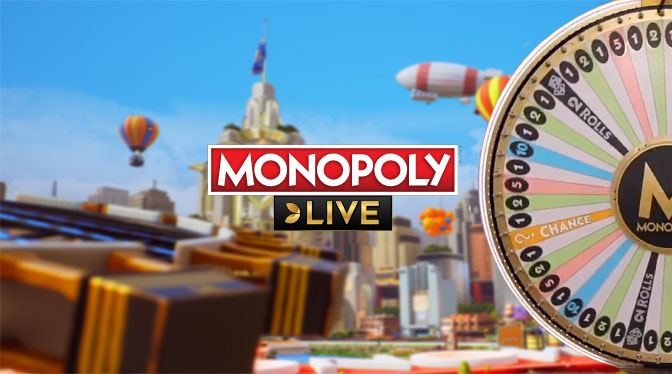 The renowned and world leading live casino provider has done it again! Evolution Gaming just recently released a new hit game which is a follow up on the extremely popular money wheel known as Dreamcatcher. It's an elevated experience with a visually impressive monopoly theme, a captivating bonus game and winnings that could potentially pay tens of thousand times your bet amount.
Sounds interesting? It definitely is! Keep reading our full Monopoly Live review below and we'll tell you all about the adventure that may very well earn a game of the year award.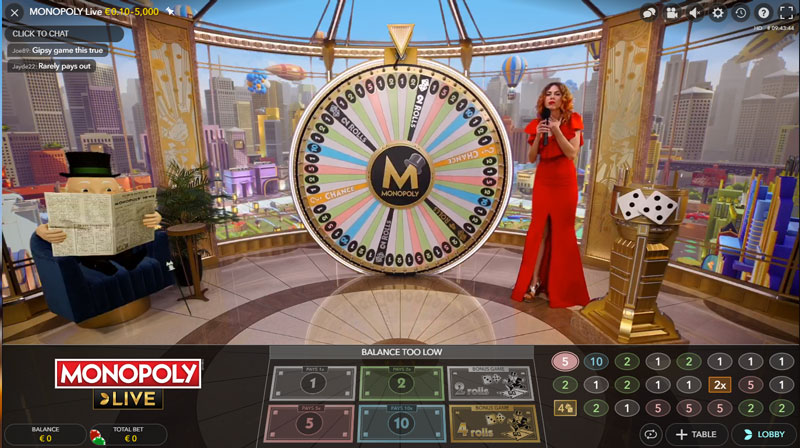 Pros and Cons of Monopoly Live

Pros

– Stunning animations and graphics beautifully mixed with a real life experience.
– A talkative game host putting on an entertaining show and conversing with players.
– Several interesting features, such as a board game bonus and a chance card trigger.
– Great potential with winnings that could possibly pay tens of thousand times the stake.
– Wide range of bet sizes that appeal to all players (from £0.10 to £5000)
– It has a monopoly theme! Who doesn't love this classic board game?
Cons

– The RTP is quite low on certain bets (91.30% – 96.23%).
Neutral

– The volatility of the game is low to high depending on what you're betting on.
Simple entertainment at its best


Whether you've taken part of money wheels before or not you'll quickly get the hang of Monopoly Live. It's an easy going experience that anyone can enjoy without any effort. The game consists of a big wheel with the following types of positions on it:
– Number 1 (22 of them)
– Number 2 (15 of them)
– Number 5 (7 of them)
– Number 10 (4 of them)
– 2 roll bonus (3 of them)
– Chance card (2 of them)
– 4 roll bonus (1 of them)
You're able to place a bet on any of these types of positions except for the chance card. The four different numbers pay as much as their value, meaning that a bet on number 1 will earn you a 1:1 payout if hit, while a bet on number 5 will earn you a 5:1 pay out.
So where's the massive potential that we mentioned in the beginning of the review? It's in the chance card and roll bonus positions.
Chance card positions – get up to a x100 multiplier

Whenever a chance card position is hit on the wheel a card will be randomly drawn that will either earn you a certain cash prize or add a multiplier to the game. Should it be a multiplier all stakes will be left on the board and the game host will spin the wheel again.
Any winnings occurring on this spin will then be increased by the multiplier from the card. Not only can this go all the way up to x10, but if you're really lucky a chance card multiplier will be followed by yet another one on the next spin. If so, these will multiply each other.
This means that an x10 multiplier followed by another x10 would give you a total multiplier of a massive x100. A bet on number 5 would then have a potential pay out of 500:1 while a bet placed on number 10 would pay you as much as 1000:1 if hit.
This is a lot, but it can actually get much better. Should you be really lucky the chance card multiplier you've received will not be followed by a hit on a number, but by a hit on one of the wheel's bonus positions. This could result in unbelievable riches, which you can find out more about below.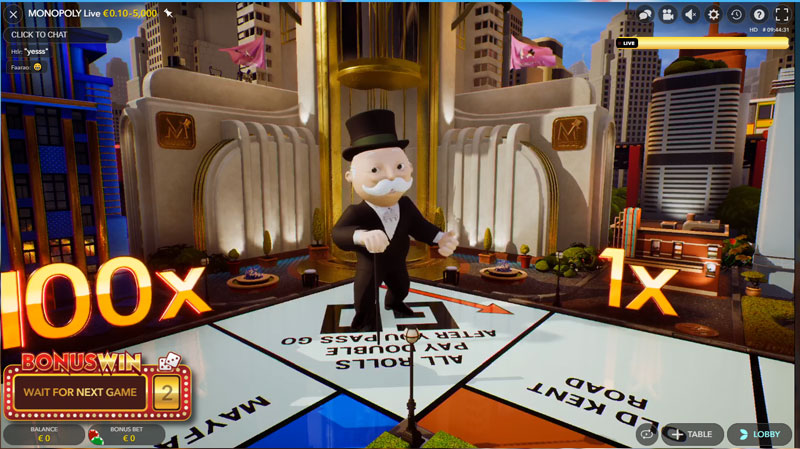 Roll bonus positions – a game of Monopoly with incredible potential

Whenever the money wheel stops on one of the roll bonus positions, a bonus game which is very similar to the classic board game Monopoly will trigger. This always has the potential to be very rewarding. To win from the bonus you would, however, have to have a bet placed on the position that triggered it, which is either the 2 roll or 4 roll one.
All properties on the Monopoly board will have a starting value of 1 – 100 times your stake with Mayfair being the most lucrative one. This is, however, without any chance card multiplier applied. Should you have entered the bonus with an x10 multiplier, the starting values would be 10x – 1000x.
Now to the best part. Before the bonus begins the value of some properties will always be randomly increased as houses or hotels are being built on them. Their value can be multiplied by up to x10. This means that Mayfair could pay as much as 1000x if it's a standard bonus or way more if the bonus was triggered with a chance card multiplier to it. An x10 chance card could for instance give Mayfair a crazy value of 10000x.
Depending on which of the two bonus positions that were hit on the money wheel, 2 or 4 rolls with two dices will occur in the bonus game. These rolls can, however, be increased by rolling doubles as every time the dices show the same numbers an extra roll is awarded.
When the dices are rolled a monopoly guy will move around the board and for every property he lands on a cash prize equal to its value will be rewarded. You want to get as far as possible as the further you get on the board the more valuable prizes await. Not only that, but should the monopoly guy pass go all properties will have their values doubled.
In addition to the properties, you can also win money by having the monopoly guy landing on a chance card or community chest. They're not always good though as apart from giving you a cash prize, you could receive a card that will reduce your current bonus game winnings.
These cards are not the only baddies in the bonus, but you always want to avoid landing on income or super tax. Doing so 10% respectively 20% of your bonus winnings will be removed. It's also not very nice landing on the go to jail position as you would have to go to jail and to get out doubles would have to be rolled.
Amazing graphics that elevate the experience


With a talkative host adding a lot of fun to the experience and interesting features that can pay massive amounts, Monopoly Live is truly a fantastic game. What makes it even better and brings it to a world class level is, however, its marvelous graphics.
The studio in which the game host is entertaining and spinning the money wheel in is blended with an eye catching monopoly design. There's a background of a big monopoly board and a cartoonish city with moving cars, air balloons and airplanes which is really nice.
The big highlight is, however, a monopoly guy who is sitting next to the wheel drinking coffee and reading a newspaper. He's so perfectly incorporated in the design that you would think the game host could touch him. When a bonus or chance card position is hit, he's also moving around in the studio further enhancing the visual experience.
So what's the verdict of the game?

It's a must play! It's only been released for a short period of time, but it's already incredibly popular among casino enthusiasts and this says it all. We're just one of the many fans. There's really only one downside to Monopoly Live and it's the RTP which can be a bit low. While betting on number 2 and 10 have a fairly good RTP of 96% or more, the four other bet options go from 91.30% – 93.90%.
Other than the RTP the game is, however, truly amazing and it's definitely a good candidate for receiving a game of the year award. We highly recommend giving it a try!
Relevant news