Enjoy Classic Winnings on Greek Gods slot game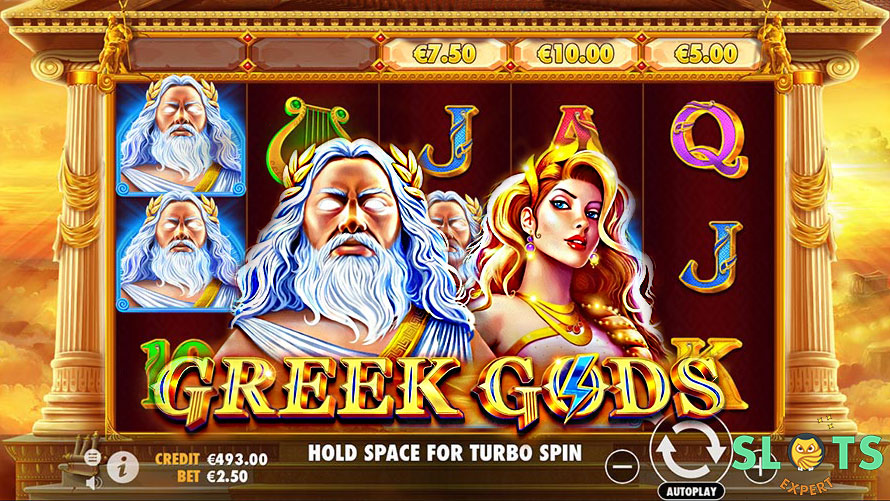 Bring your offering to ancient gods for a divine blessing and a mythical slot game experience on Greek Gods slot.
Slot Game intro
Ancient Greek, Egyptian or Nordic mythology have always been very popular slot game themes. Game developers continue to produce games with these mythical themes as players don't seem able to get enough of them. As you can guess from the slot game title, Greek Gods does exactly what it says on the tin; it's a slot game that honours the gods of ancient Greek mythology. These gods all seem too human and they might pass on any of their godly qualities to you. Appease the divine beings on Greek Gods and take your slot gaming to the next level for some other-worldly winnings.
Greek Gods

Layout
5×3
Paylines
243 win ways
RTP
96.50 %
Progressive Jackpot
No
Special features
Wild symbol, Scatter symbols, Random Awards, Wheel of Fortune Bonus, Free Spins
Maximum win
£100,000
Game provider
Pragmatic Play
Greek Gods Gameplay
The reels of Greek Gods slot are set at an ancient Greek temple displaying icons of divine beings. In addition to staple features Wild symbols and scatters, this slot also features Random Awards and the Wheel of Fortune Bonus game.
Game Features
Wild Symbol
As per usual the Wild symbol can replace any other symbol, with exception of the Scatter, to help you form a winning combination.
Scatter Symbol
The Lightning bolt functions as the Scatter symbol and appears on reels 3,4 and 5 only. The Scatter allows you to activate Free Spins and trigger any Random Award.
Random Awards
A Random Award consists either of a coin win, Free Spins or the Bonus Game. It is triggered in the base game when you play a full stack containing three Scatter symbols on reels three, four or five. You win the Award that is displayed above the stack.
Free Spins
You can activate Free Spins mode through either playing five Scatter symbols on the reels in one round or through the Random Award. You get eight free rounds and once Free Spins is active, Scatters can also land on reels 1 and 2 and you can be awarded Random Awards on all reels. You can win up to 40 Free Spins by retriggering the mode through Random Awards.
Wheel of Fortune Bonus
This feature is activated when you play a full stack of Scatter symbols underneath the Bonus Symbol. Once triggered, the Wheel of Fortune Bonus allows you to spin the Wheel to win a cash prize that varies from between 10 times and 1,000 times your stake. The Wheel of Fortune Bonus Game can be triggered in the base game as well as in Free Spins.
How does Greek Gods compare to other Greek Mythological themed Slot Games?
As previously mentioned, the ancient Greek mythology slot game theme is hardly original, so how does Greek Gods compare to other similar themed slot games?
Many of the mythology themed slots either fall into the cartoon-like realm or the realm of epic story telling with graphics and soundtrack to match. Greek Gods seems to nudge towards the former. The game has a colourful design and in addition to icons of gods, you find easily recognisable attributes related to ancient Greece, such as a lyre, a classic drinking goblet and Zeus' lightening bolt on the reels. Similar slots are the many games with the gods' dwelling place Mount Olympus in the title such as Rise of the Olympus, Legend of Olympus and Gods of the Olympus. In addition to the cartoon-like design, the slot game contains animations that includes dramatic lightning bolts and are accompanied by a fitting soundtrack. All this makes Greek Gods a sufficiently entertaining online slot. However, there are other slot games out there with better design and more engaging features. If we would compare Greek Gods to an ancient Greek-themed game with more gravitas, such as Divine Fortune, we might notice that Greek Gods is missing something.
Divine Fortune: a different type of ancient Greece mythological slot
Divine Fortune falls into the category of epic and dramatic rather than cartoon-like slot ancient Greece themed slot games. Divine Fortune has a more stylish design paying a well-meant homage to the ancient Greek gods. Imagery displayed on the reels of Divine Fortune are more sophisticated compared to those on Greek Gods slot. On Divine Fortune, the reels are flanked by well-designed full-body sculptures. Instead of the more simplistic attributes on Greek Gods, you find more intricate icons of the Minotaur, the half-man half bull creature; the snake head Medusa, and Pegasus, the winged stallion on the reels. A dramatic soundtrack adds to the epic nature of this game. Conventional slot game features such as Wild symbols and Free Spins have been applied in an engaging way. Divine Fortune is a progressive jackpot slot and offers excellent win potential. On average the game pays out £164,000 every 38 days and has paid out cash prizes up to £300,000. In terms of design, game play and win potential Divine Fortune can be considered superior to Greek Gods.
This doesn't mean that Greek Gods is a bad game. As Divine Fortune has a similar RTP as Greek Gods, yet the game has a better design and far greater win potential due to the progressive jackpot, Greek Gods can be a welcome variation to a much-loved theme. If you love the ancient Greece theme, Greek Gods is worth a spin. If you are new to this popular slot game theme, there are better games out there to try out first.
Greek Gods slot game is by no means original, but it is a decent game offering decent online casino fun and win potential.
Relevant news