Claim your Jungle Riches on Gonzo's Treasure Hunt Live Game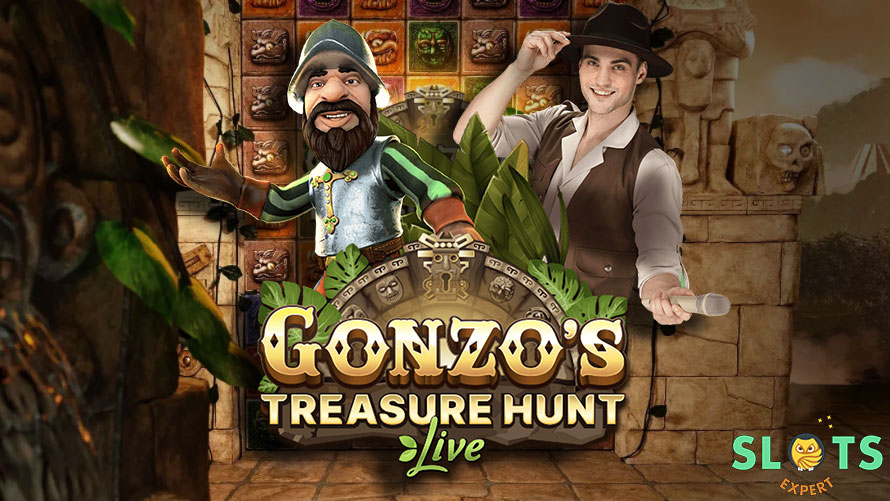 Go on a true treasureßhunting adventure with the option to fully immerse yourself in a virtual reality world with Gonzo's Treasure Hunt Live
Live Game intro
Gonzo's Treasure Hunt is a collaboration between top live game developer Evolution gaming and award-winning game producer NetEnt.This live game is based on the popular NetEnt adventure-themed slot game Gonzo's Quest. For that reason it contains slot-game elements. Gonzo's Treasure Hunt takes place within the setting of an ancient Inca temple, and is guided by a live presenter, who is wearing an Indiana Jones- like outfit. Both the presenter and Explorer Gonzo find themselves in the foreground to spur you on. At the back of the game area you find a grid where most of the game action will take place. Gonzo's Treasure Hunt offers you the option to play in Virtual Reality mode. If you have the appropriate VR headset and controller you can truly emerge yourself in the game.
Gonzo's Treasure Hunt

Layout
7×10
Paylines
n.a.
RTP
96,56%
Progressive Jackpot
No
Game features
Live presenter, Prize drops, Re-Drops, Multipliers, VR option
Maximum win
£500,000 or 20,000x per winning stone
Game provider
Evolution
Gonzo's Treasure Hunt Gameplay
In essence, Gonzo's Treasure Hunt is a minesweeper- like live game. The game features 6 different stone blocks, each with an image of a mask as we known them from Gonzo's Quest slot. Out of these 6 blocks you select the ones you want to hunt for on the grid. The 6 stone blocks have the following prizes attached to them if you guess their location right: x1, x2, x4, x20 and x65 your stake. The stones with the highest values appear the least often. After you have chosen the stone or different stones you want to hunt for, you select the number of clicks you want to have at your disposal. You have between 1 and 20 clicks to help you reveal your selected stones. There is a set time frame in which you can decide how many clicks you want to buy.The more clicks you select, the higher your stake and the higher the chance to guess the position of the stones correctly. When time is up, the symbols on the reels will be covered and are shuffled. The treasure hunt consists of correctly selecting the positions where you think your chosen stones might be hiding within the number of clicks you have bought and within the set time frame. Gonzo can turn a large key at random to reveal bonus features. These features are displayed on top of the grid on a separate one-row reel set . They drop on the reels and might affect your total payout at the end of the round. When the game round has come to an end, any stone positions you got right plus any bonuses will be added to your casino account balance. After that you can prepare for the next round.
Game Features
As Gonzo's Treasure Hunt is in essence a live game, the game's features are different from a straightforward slot game.
Live presenter
The game is presented and animated by a life presenter wearing an explorer- adventurer outfit, and conquistador Gonzo.
Prize Drops
The Prize drops are initiated by Gonzo when he turns the large key in the wall. You can win Multipliers and Re-drops that can help you increase your win chances.
Virtual Reality Option
For a total immersion, you can play Gonzo's Treasure Hunt in Virtual Reality game. This will give you the sensation that you actually find yourself in the game. You do need an appropriate VR headset and controls to enjoy this option.
Verdict
Gonzo's Treasure Hunt is a highly exciting game that combines the best of several worlds. The game has borrowed the lively and well-designed animation of the popular NetEnt slot Gonzo's Quest. An added feature is the live-game element of the presenter who guides your game and is appropriately dressed in an explorer's outfit. Another exciting element of this slot is the option to play the game in Virtual Reality mode for a truly immersive experience. Gonzo's Treasure Hunt has excellent win potential. Whether you are a fan of Gonzo's quest, love to play live games, or are into virtual reality gambling, this slot has both something exciting and new, as well as something familiar for a very wide range of players. Join Gonzo on his treasure hunt and claim your gold.
Relevant news