The Rise of the Exclusive; Online Casinos and exclusive slot games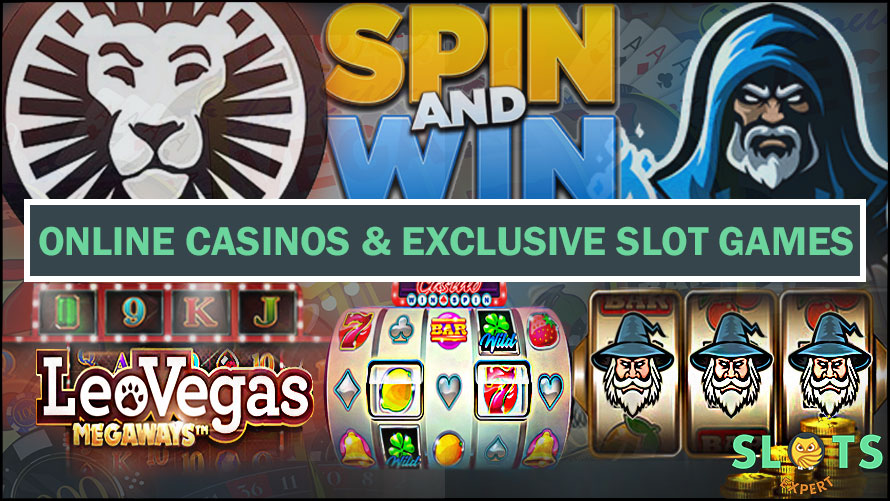 The most popular slot games are available at a variety of online casinos. This means you can hop from casino to casino to have access to all your favorite slot games. However, there are some exceptions to this general rule. Online casinos can make deals with game provider for exclusive rights to be the only one to offer certain slot games for a set period of time (in many cases three to six months).
Some casinos, such as Mr Green even offer slots that exclusively fit their brand and, like other exclusive slots, are available nowhere else. This phenomenon of exclusive slot games is nothing new. However, in recent months an increasing number of online casinos have launched exclusive slot games. What might be behind this rise and how can you as a player make the most of exclusive slots?
What are exclusive slots?
An exclusive slot game is a slot that is only available at one particular online casino or casinos belonging to the same group. This means you can only play an exclusive game at that particular casino or casino group. A clear example of exclusive games are the Mr Green themed games. These slots have been developed exclusively for online casino Mr Green and include Vegas Adventures, Lucky Mr Green and Finding Mr Green. As is quite clear from these titles, these games are only available at online casino Mr Green.
As briefly mentioned above, an online casino can have exclusive rights to a newly launched game for a set time period. This entails that this game is only available at a particular casino for six months, for example. After these six months the exclusivity rights expire, and other casinos are allowed to offer this game as well. In our example of the Mr Green-themed slot games, as these slots are so strongly linked to the casino brand, other online casinos wouldn't be interested in offering these games and the Mr Green themed slot games remain exclusive to the online casino of the same name.
Why do Online Casino launch exclusive slot games?
The online casino market is very dense and new providers seem to enter the scene every month. More supply means that players have more to choose from. For online casinos however, it seems increasingly difficult to differentiate themselves from the competition as the best ones offer more or less the same games. Having a strong brand that is easy to identify, is a great way for online casinos to rise above the crowds.
In a way to further differentiate themselves from the masses, online casinos offer exclusive games. Of course, these games need to offer something highly exciting to make the exclusivity worthwhile. This can include a great story, engaging graphics and animations; and/ or excellent win potential. As high rollers deliver online casino the bulk of their income, many exclusive slot games have high volatility levels. This way an online casino can attract these more demanding higher-risk players and if they like what they are offered, they are likely to stick around.
The Pre-launch of an exclusive Slot
Online casinos can also create some buzz about their brand by joining the excitement prior to a game's launch and offering a pre-launch exclusive. This means that before a game is officially launched by the game developer, you can get a sneak preview of the slot at a particular casino only. Especially if the release of the game is highly anticipated, a pre-launch exclusive can attract significant numbers of players who are keen to try out the new game before it's general release. By offering a pre-launch exclusive an online casino can create great excitement in a short amount of time and attract players that could stay around for more if they like the casino's gaming environment. This all would cost an online casino considerably less than paying exclusivity rights for a game yet could just be as effective in its attempts to attract and retain more players.
How can exclusive slots strengthen a casino brand?
Not only can exclusive slots draw more attention to a particular casino, it can also strengthen its brand. Especially online casino with a specific theme or a discernible brand, exclusive games can reinforce the image attached to the casino brand. To use the Mr Green-themed slots as an example once again, these slots portray an image of quality adventure, stylish fun and epic excitement which fits the online casino styled around the distinguished and mysterious gentleman Mr Green very well.
Another example of an exclusive slot reinforcing a casino brand image, is Book of Bob, at the moment of writing exclusively available at online casino Casumo. This casino has always been the quirky kid on the block as the online casino is set in another, happy universe where creatures based on Japanese sumo wrestlers have tons of gaming fun. Book of Bob is an odd-ball slot game inspired by the highly popular ancient-Egypt treasure hunting adventure theme.
The quirky game has a high variance, so the slot does not only fit the casino brand, it also attracts high rollers giving the casino great potential to increase its revenues. Boosting an online casino brand through the offering of exclusive slots, is likely to be most effective when a casino already has a strong brand. The offering of an exclusive slot could also be a great strategy in a online casino re-branding campaign, where the new brand image can be established with the support of the availability of an exclusive slot that fits the new brand.
Play exclusive Online Casino Slots
Perhaps you have become curious and would like to find out more about titles of exclusive slot games. In addition to the slots mentioned above, we would like to shine a light on the following titles:
Wizzard slot at Casumo
Bob briefly discussed above, Wizzard is a quirky, high volatility slot game that fits the Casumo brand like a glove. Slot game silliness include a long-armed wizard subjecting you abuse when you don't play, a witch with saggy boobs popping out of the window on every spin, and a loudly-farting elf providing the soundtrack to every winning game round.
You earn a re-spin on every winning spin and a winning re-spin expands the grid and awards you another spin. Make seven wins in a row and you trigger Free Spins mode played on a 7×7 grid. In Free Spins you get five rounds and multipliers of up to no less than x 150 are applied to every win. Despite it's high variance, Wizzard has the magical ability to offer you the game play of a low volatility slot, as the game gives you plenty of opportunity to make smaller wins. With an RTP of 96.08% this funny slot gives you the chance to make maximum wins of up to 9,000 times your bet.
LeoVegas Megaways at LeoVegas
LeoVegas Megaways is a 6-reel slot designed in online casino's LeoVegas orange-peachy brand colours. Game developer Blueprint Gaming gave the slot a sparkling theme as the grid is framed by lights and symbols on the reels include casino chips and sparkling jewels.
As you can guess from the name, the slot operates with the Megaways mechanic. The game has cascading reels and increasing multipliers are awarded on consecutive wins. You can activate Free Spins mode in which you can be awarded up to 15 free rounds, by playing sufficient Scatter symbols in the triggering round, or by engaging the Bonus Bet function. LeoVegas' logo, the well-known lion's paw, also plays a role on this slot game. When it appears on the reels, it randomly turns symbols into the same symbol for increased win potential. This LeoVegas exclusive offers a roaring maximum win of up to £250,000 which is bound to attract players and make them stay at LeoVegas.
Spin & Win at Betsson
Spin & Win slot game combines the excitement of the classic fruit machine with the thrills of the famous TV game show Wheel of Fortune. Imagine yourself playing on a virtual game show and spinning the wheel to be in with a chance of winning great cash prizes. The reels of the game are set in a TV studio bathing in bright studio lights where a live audience is witnessing all the action.
Spin & Win slot game has five pay lines and you find classic slot symbols on the reels such as pieces of fruits, bar symbols and lucky number 7s. In addition to these, you also find icons related to the famous game show including imagery of the game show hostess, gold medals and the game's own Spin & Win symbol. The game has no less than three jackpots called Tasty Jackpot, Luxury Jackpot and Dream Chance Jackpot. Spin and Win slot has a Bonus Round that can be activated when you play at least three game show hostesses on the reels.
In the Bonus Game you get to select boxes containing cash prizes of up to x150 your bet. The famous Wheel is placed behind the grid and when you trigger the Wheel of Fortune bonus round you get to spin the wheel with the chance of winning one of three progressive jackpots. This medium variance slot offers tons of excitement and plenty of chances to make dazzling wins for the game show experience of a lifetime played from your desktop or mobile device.
If you are looking for something new or a reason to stick to a particular casino, check out the exciting exclusive games at the online casinos featured on our list of best online slot games casinos.
Relevant news