Best Flower-themed Slots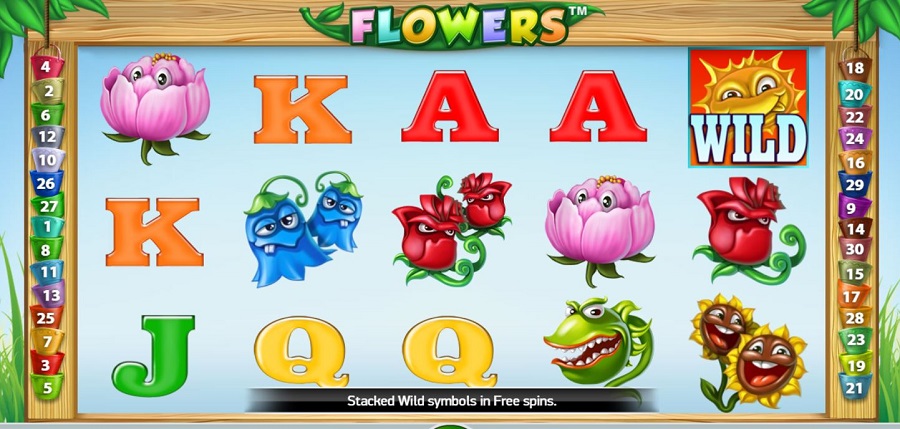 Celebrate spring with the best flower slots out there. Think colourful butterflies, buzzing bees, compelling nature-themed sounds and a vibrant gameplay. Now, you can take lively-looking trees and brightly coloured flowers of springtime with you, anywhere you want as long as there's an internet connection. Here are some of the best online slots with flowers.
Flowers
Flowers was the first ever flower-themed online slot. This 5-reel, 30-pay line video slot can make a bad day seem a little better. This brightly coloured slot might have a traditional slot set up but the gameplay comes with an imaginative twist. Plus, the background nature sounds will almost transport you outdoors. Unless you already are outdoors, enjoying some mobile playing.
Flowers features a vibrant springtime atmosphere with letter symbols, Free Spins and Wild Symbols. Momentarily escape from your world and win extra cash as you enjoy cheerful flowers and birds chirping happily!
Among the online casinos offering this slot is Betsafe. Why not give it a spin? You must be in it to win it.
In Bloom
In Bloom is quite a spectacular slot, particularly if you are looking for something to cheer you into the springtime mood. This 5-reel video slot offers a Garden Bonus and The Burst Symbol feature to make the game more exciting, while increasing your chances of winning.
Get lost in the lively delight of a game screen bordered by flowers, wooden-framed reels and a naturistic background of mountains, trees, grass and hills. Treat yourself to a thrill of symbols bursting into multiple flowers to create winning combinations with up to 15 flowers. If you land two or three butterflies on the reels you automatically activate the Free Spins feature.
Let the fun blossom on this slot at Mr Smith and Mr Green.
Cherry Blossoms
Find a way to relax in the springtime with Cherry Blossoms. This slot is distinctively based on Japanese Oriental florals and comes with a grand 2500 jackpot. Delight in the serene blooming season; cherry trees against a white background and original Japanese music.
Experience Asian bloom season and win Free Spins with this slot's Geisha Wild Symbol and Cherry Blossom Scatters. The number of spins depends on the number of symbols you land on your reels. Even better, the Free Spins feature can be re-triggered and all wins earned during this feature are tripled. If you win, you can activate the Gamble feature and double your winnings again by guessing the colour of the card on the screen.
Check it out at Betsson. Their slogan is "Anytime's playtime", so why not head over right away? Who knows, the big wins can come your way today.
Flower Power
Microgaming's Flower Power comes with a nature theme where you can spin several peace emblems. Flower Power is embellished with bright colours and a touch of the hippie lifestyle.
If you are usually into 3D online slots, then you might be a bit under-impressed by this game's simple design. –And although the bonus features are not particularly lavish, the game comes with a lot of colourful bliss and a 25000 credit jackpot.
In conclusion, flower-themed slots are charmingly fun and exciting and we wish gaming software companies would create more floral slots. –But if only the number of flower-themed slots matched the total number of flower species on the planet, slot players would be happier.
Relevant news