Behold the new Decade: iGaming Challenges and Trends in 2020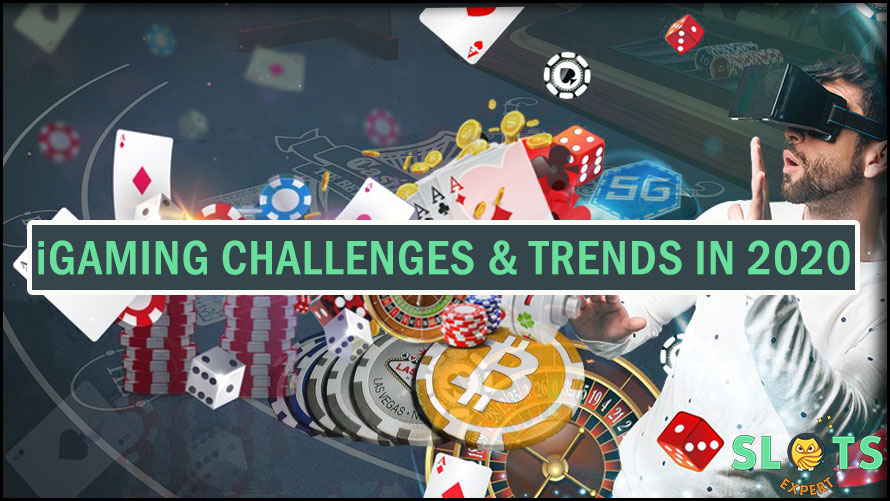 We about to enter into a new year, we are also at the start of a new decade. The igaming sector has seen great developments in the last 10 years. As the sector continues to grow, there are some trends igaming providers are incorporating in their offering. There are some challenges too that demand online gambling providers to stay on their proverbial toes. Based on recent developments in the world of culture, technology and politics, we have discerned a few trends and challenges that can be expected in online gambling land in 2020 and years to come.
Expected Challenges in the igaming sector in the coming year
The main challenges the European online gambling industry is facing at the moment and in the near future are: Brexit, tax increases, and tighter regulations.
Brexit
Brexit is looming large and is expected to have a great impact on the European online gambling scene. In a referendum on Britain's membership of the European Union held in June 2016 a, small majority voted in favour of leaving the supranational organisation. Several years have passed since then and still a lot remains unclear on how, when and even if the UK will be leaving the European Union.
Both the uncertainty as well as the expected effects of Brexit will have a considerable impact on especially UK-headquarter online gambling providers. In the case of a no-deal or hard Brexit, these UK-based providers won't be able to cater to players in the EU without additional licenses. These online gambling providers might even be banned from bidding for any EU gaming licenses. The effect of Brexit on players could be that they won't be able to play at their favourite online casinos if these are headquarter in the UK or in the overseas territory of Gibraltar.
Tax increases
The UK government is expected to lose out on igaming revenue after Brexit, as companies will relocated from the UK to locations within the EU. To make up for this lost revenue, the British government is likely to increase taxes for igaming companies.
This would put more pressure on any online gambling providers that decide to stay headquartered within the UK. Besides Great Britain, Denmark too has announced to increase taxation on igaming providers in 2020 and in a call for stricter regulations, more countries might follow suit.
Tighter regulations
As the igaming sector is growing, some voices call for stricter regulations. In the UK a cross-party parliamentary group has published a report in autumn 2019 proposing stricter regulations for igaming providers. These tighter regulations have the aim to protect vulnerable players and limit the detrimental effects of gambling addiction.
The group calls for limits on betting stakes and cash prizes, as well as stricter rules for advertising. Other European countries such as Italy and Romania have also called or already imposed stricter regulations for online gambling providers.
iGaming Trends in 2020
Like any other industry, the igaming sector is subjected to trends. As online gambling depends a lot on technology, any advancements and trends in the tech sector will have their effect on igaming.
Technology trends
5G Technology
5G telecommunication technology, that is currently introduced around the world, will have a significant impact on the industry. At the moment only a small number of players makes use of this technology in Europe. When 5G will become more widely available, online casino game providers and platforms can adapt their products and services accordingly.
The technology allows casino platforms to operate faster and with more capacity. Game providers on their turn can produce games with higher resolution and other aspects that require more bandwidth There are health concerns in regards to the role out of 5G technology. If regulators choose to ignore these due to the lack of evidence or for other reasons, 5G technology can provide players with a faster, smoother and more intense gambling experience.
Artificial Intelligence
Artificial Intelligence, AI for short, has been the talk of the town for several years. More and more companies across all industry sectors are researching how the use of AI can improve operations. In igaming, online casinos are considering the use of chat bots to provide customer service. These chat bots can deal with far more queries per hour than human agents, and could cut operational costs in the long run.
However, until that time comes, these bots need to be programmed to deal with a wide vary of queries which takes time and costs money. Also, most players prefer dealing with a real person rather than a bot. As AI technology develops, more chat bots are likely to be employed in the course of the new decade.
In addition to using AI for customer service, it is also likely to be applied in sports trading. As bots can process data a lot faster, it can help providers setting real-time odds that benefits the bettor as well as the gambling provider.
Virtual Reality
The emergence of VR has not gone unnoticed in the igaming sector. Several game providers and casino platforms have incorporated VR in their products and services although currently the scale remains fairly small. The sector is aware that this technology will play an increasingly bigger part, however, providers seem to be rather cautious. They are keeping a sharp eye on the competition and no one seems keen to be the first to make a major step forward. Once a provider will do this and it proves to be a big success, others are most likely to follow.
Crypto currencies
Offering crypto currencies as a payment method at online casinos has been a trend for several years, however the big providers seem reluctant to adopt these type of currencies. This has likely to do with regulators that are not keen on the currency as they believe it lacks transparency. The big providers are waiting for crypto currencies to go mainstream, so it will have a bigger reach and is more likely to be approved by regulators.
If crypto-currencies become mainstream and enjoys the same trust as fiat currencies, this will mean they are likely to lose their appeal to early-adopters. These users prefer crypto-currencies due to their decentralised nature, which makes them less transparent in the eyes of government authorities. When the time comes that the big providers in the igaming sector are embracing crypto-currencies, it is very likely that the payment methods has become more of a fad rather than a valid alternative to centralised fiat currencies.
Cultural Trends
The main cultural trend in igaming is that the sector wants to develop itself into a worthy competitor to other entertainment providers. This means that online gambling aims to compete with established entertainment options such sports, video games, and media service providers such as Netflix. iGaming providers are keen to be exposed to new players and to millennial players especially. The sector aims to do this through a number of strategies:
More branded Slot Games
Branded slot games are by no means new and as they have proven to be a great success, we will see more of these in 2020. Branded slots, developed in partnership with musicians and producers of popular films and TV series, can introduce a new audience to online gambling. In regard to music-themed slots, game providers are especially keen to partner with artists and bands in the rock and metal genre, as these slots have proven to be very popular.
Popular films and TV series have also successfully found their way to online slot reels. In the last year, popular game shows have formed the basis for several online live casino games and this trend is likely to continue. Gambling and sports have had a cosy partnership for decades, especially in the UK. The theme of popular athletes featuring in online slots, such as Scudamore's Super Stakes, might become more popular in the next few years.
Branded slot games do not only give players the chance to play games with familiar references to popular culture. They also allow fans of specific artists, TV series or films to be introduced to the world of online gambling.
More Slot Game Sequels
The online gambling sector needs to stay innovative due to rapid developments in technology. However, when it comes to game themes, we can expect more of the same as game developers are likely to play it safe in this area next year. In 2019 we have seen a number of sequels to popular slots and we can expect more slot game sequels in 2020.
Merging of Video Slots, Video Games and RPG
Especially with the aim of attracting a younger adult audience, slot game providers are keen to expand their portfolio with slot games that incorporate elements of video games and role-playing games (RPG). Many slot games already have the appearance of a video game and this development is expected to continue.
The idea of the adventure casino is increasingly applied to games through the introduction of elements taken from role-playing games to encourage more active player engagement. The launch of PlayTech's Kingdom Rise slot game series is a clear example of this trend. This series consists of four slot games that are each set in a different fantasy land. The coins you earn in one particular game of the series can be exchanged for extra features on another Kingdom Rise slot game.
Increase of Sports Betting and Betting on Video Games Tournaments
As previously mentioned, the gambling sector has made partnerships in the world of sports for decades. Considering the huge appeal and impact of professional sports, online gambling providers are expected to increase their sports betting offering. This includes the promotion and possible extension of their e-sports betting portfolio.
Not only does e-sports betting appeal to a younger adult crowd. This gambling option can also offer a gateway to other forms of sports betting such as live sports. To explore new avenues that are, once again, especially appealing to younger adult players, igaming poviders are expected to develop betting options on video games tournaments. These tournaments have become big events offering big cash prizes and attracting thousands of spectators both online as well as offline.
More Partnerships with Land-based Casinos
In addition to all developments in technology and popular culture, igaming has not forgotten about offline gambling. Online casinos might be in direct competition with land-based casinos. However, both online and land-based providers have chosen to make the most of each other's existence by developing partnerships.
Partnerships between brick-and-mortar casinos and online casinos have existed for many years. Players can place bets at tables of popular land-based casinos via live-stream. As technologies are developing rapidly, online casinos are expected to increase the offering of land-based casino betting via their live casino. This will give online players the chance to virtually visit the most popular and most glamorous land-based casinos. These brick-and-mortar casinos can not only generate revenue from online players, they also encourage these players to actually visit these places in person. Online casino can add yet another service to their offering with this type of partnership.
The igaming sector is facing several challenges in 2020. Despite these challenges the online gambling sector continues its boom and new opportunities await. On the one hand, the sector is aiming to play it safe to be in the best position to face current challenges. On the other hand, technological developments and cultural trends demand that the online gambling industry explores new avenues to not only stay relevant, but also become a serious competitor to many other forms of entertainment.
Relevant news