Flame busters
Categories:
|
Published by:
admin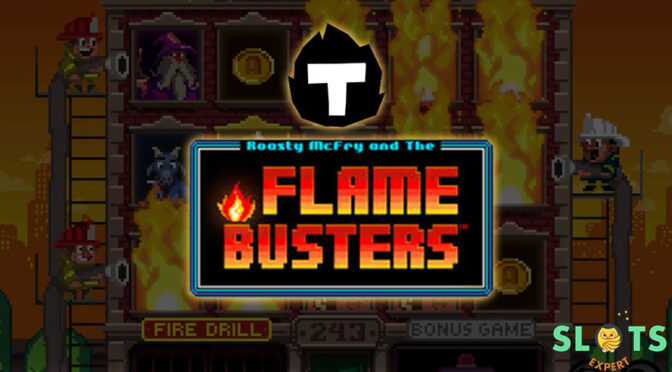 Play Flame Busters from Thunderkick for free
---
About Flame Busters
Take a voyage into the past and embark on a nostalgic adventure that has a graphic so pixelated you'll think you're enjoying a video-game from the 80s. This marvellous, one of a kind slot will have you burning with delight as symbols combust and you're putting out fires in a multi-level free spin feature that can leave you with massive winnings of several thousand times your stake.
Quick Facts: Flame Busters

RTP
96.1%
Volatility
6/10
Maxpayout
2430x
Jackpot
No
Bonus
No
Free spins
Yes
Game provider
Thunderkick
Release date
May 2017
You thought you'd seen it all, but then the creative team at Thunderkick put their ingenious minds together and surprised us with the fantastic release of Flame Busters. This unique slot will immediately have you wondering if you're actually playing casino at all or if you just dusted off your old Nintendo 8-bit console to enjoy nostalgia and somehow forgot about it.
The game design will take you by storm as the graphics are charmingly pixelated, the sound effects old-school and the music an uplifting midi-tune in a true retro fashion. It all feels like playing a very old video-game and it's definitely a slot experience you won't soon forget.
With the adventure taking place at a fire station, it seems like Thunderkick thought of it all. The reels are cleverly represented by windows of the building and next to them are firemen that are regularly putting out burning symbols. Not only are the animations entertaining, but among the symbols you will find quite a funny crew of characters as wizards, pirates, robots and even a cigarette smoking goat have been mixed together.
If not remembered by its fantastic design, the slot will surely make a lasting impression by its thrilling features that can have you greatly rewarded. As you spin the reels, a mystery symbol that will take the shape of another one will constantly appear, while a random feature that can replace up to five symbols with the mystery one is occasionally triggered.
This can cover the entire screen with a high valued symbol and pay out more than 2000 times the stake. It is, however, most likely to happen in a multi-level free spin feature that is Flame Buster's most anticipated one. This will give you plenty of chances to replace the game's low paying symbols with mystery ones and then have all of these turned into the same high valued symbol.
To learn more about the features, payouts and everything else you'd like to know about this flaming hot slot disguised as a vintage video-game, just keep reading the full review below!
Stake Options and Reel Design
In Flame Busters you'll experience the popular megaways concept as you're spinning on 5 reels that have 3 rows each. This means that a symbol of the same sort can appear on any position to create a winning combination, as long as it appears on the first three reels.
The more reels the same symbol is included in, the higher its payout value becomes and the more positions covered by the same symbol, the more winning combinations are created. A maximum of 243 winning combinations can occur which happens by covering the entire screen with the same symbol.
When it comes to stakes, there's an option that will suit budget players and high rollers alike. You have 14 different alternatives to choose from with the minimum bet being €0.1 and the maximum one €100.
Symbols and Their Values
As you're spinning the reels wondering if its bushes or trees in the game's background, there are 4 different types of symbols that can appear; normal paying ones, wild symbols, scatters and a special fire symbol.
Normal Paying Symbols
The normal paying symbols are the ones constantly rewarding you with winnings and among these you'll find five high valued characters and five low paying coins. In the below list you can find them all listed with their payout values presented as times your stake.
Symbol

On 3 reels

On 4 reels

On 5 reels

High paying symbols

Fireman
1.5x
2x
10x
Wizard
1x
1.5x
5x
Pirate
1x
1.5x
4.5x
Robot
0.7x
1x
3.5x
Goat
0.7x
1x
3x

Low paying symbols

Coin A
0.5x
0.7x
2x
Coin K
0.4x
0.6x
1.8x
Coin Q
0.4x
0.6x
1.7x
Coin J
0.3x
0.5x
1.6x
Coin T
0.3x
0.5x
1.5x
Please note that the winnings shown only represent a single winning combination and that a total of 243 of these can appear. So even if the fireman only pays ten times your stake when showing up on all five reels, he would be paying 320x if there are two of them on every one. Why? Because a total of 32 winning combinations would be created (2 * 2 * 2 * 2 * 2 = 32).
Wild Symbol
Represented by a big W, the wild symbol in Flame Busters will occasionally appear to substitute for all of the normal paying symbols, making the wild quite a valuable one.
Fire Symbol
The fire symbol, which is easily recognized for being a fire (duh!), will regularly show up to take the shape of a randomly chosen type of normal paying symbol. The firemen on the side of the reels will soak the fire symbol with water which will then reveal a coin or a character.
All fire symbols appearing during the same spin will always turn into the exact same symbol, making it possible for plenty of winning combinations to be formed.
Alarm Scatter
The most sought out after symbol in Flame Busters is an old-school fire alarm as this is a scatter that can trigger the game's lucrative free spin feature where the biggest winnings always await.
Game Features
As the reels run hot and firemen are sweating to fight the flames, you can look forward to two thrilling features that will make their fiery battle a living hell. One of them is a fire alarm bonus and the other one a fire drill feature, and they both involve igniting symbols!
Fire Alarm Bonus
The fire alarm bonus is triggered by 3, 4 or 5 scatter symbols and will reward you with 10, 15 or 20 free spins. The feature is a multi-level one and with every progression a higher winning potential is reached. To advance in levels, three fire alarms (scatters) need to be collected for every new one. This doesn't have to happen on the same spin, but every scatter showing up is always saved.
Each new level will reward you with 2 extra free spins and have the currently lowest paying symbol ignited, which will have it permanently turned into the fire symbol. There are a total of five levels to reach and if you get to the last one, all low paying coins will be replaced by the fire.
This is extremely valuable as fires will become incredibly common and could easily result in big parts or even the entire screen being covered. As fires always turn into the same symbol and only high paying characters will be available at the fifth level, massive winnings are bound to happen.
Fire Drill Feature
As you spin the reels hoping for the free spin bonus to trigger, you will occasionally get a glimpse of its massive potential as a fire drill feature will randomly take place. When this happens, at least one and up to five of the low paying coins will combust as they are turned into fire symbols. If you're lucky enough, this could lead to a big hit with a huge cash reward as a result.
Max Win, Volatility and RTP
Fighting fires in Flame Busters is not only entertaining, but can be highly rewarded. If you got lady lucky by your side, a single spin can lead to an amazing payout of 2430 times your stake. Getting your hands on this fantastic win is done by covering the entire screen with the highest paying fireman symbol, which can happen by turning the low valued coins into the special fire symbol.
This is the game's maximum win for a single spin, but during an entire fire alarm bonus you could potentially win more than twice as much as this consists of several game rounds. The total maximum payout of Flame Busters is capped at a staggering 5280x times your stake, which is quite some money to look forward to.
Chasing the big wins you should however be prepared for the worst as great rewards come with great risks. The game has a medium to high volatility and even though you shouldn't have to wait all too long for its two features to trigger, this means that your bankroll could take quite a hit if unlucky.
Winnings in the base game frequently happen (on about every third spin), but they rarely hit big so a lot of the value is found in the features and even if these trigger there unfortunately isn't any guarantee that they will pay. Usually you won't go empty handed, but as we said, coming prepared is always a good idea. By doing so you might very well be pleasantly surprised by a huge payout as there's definitely great value to be found in this fiery slot.
As for the game's theoretical payout percentage, Flame Busters has an RTP of 96.1%, which is in line with the majority of today's online slots.
Sign up, Claim your Free Bonus and Play Flame Busters
Relevant news